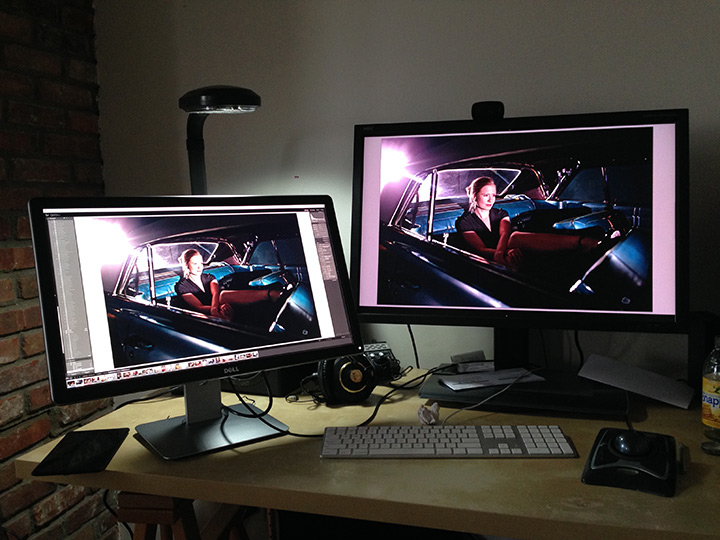 I had been limping along with a 5 year old NEC 3090 as it started to fail over the past few months, but didn't want to replace it with another low DPI screen when I knew the 4k stuff was coming right around the corner. Then a few weeks ago Dell announced a 24″ UltraHD (3840 x 2160 pixels) display in their UltraSharp PremierColor series, the so-called 2414Q. I watched and waited for it to be available on Dell.com. Every morning waiting for the button to go from "Contact Dell" to "Buy Now" and it finally did a couple of weeks ago.  After some delays in shipment my screen finally arrived this morning and I thought I'd write a little post on my experiences. This will be updated as I fiddle some more, so be patient.
First Encounter
I plugged the screen into my very fast i7 Ivy Bridge Hackintosh with a GTX 760 GPU and I got full resolution on the first try. The problem is that it's stuck at 30Hz refresh rate. Now the GPU has Displayport 1.2 and in Windows 8.1 people have been running similar screens at 60Hz. Apparently the Nvidia driver built into Mavericks (there is no Nvidia web driver for Mavericks yet, or ever) does not support what's called MST or Multi-Stream Transport. Basically the way screens these hi-res screens work is that you send two screens worth of data (that's the Multi-Stream part) over the same cable and the screen just displays them next to each other on the same panel. No MST in the driver means I'm stuck at 30Hz.  I've heard that the latest Nvidia Web Drivers for Mountain Lion has MST support, so I'm currently cloning my last 10.8 installation over onto an extra drive to see if I can get it working over there. Sometimes when you're on the bleeding edge, you get cut.
The other issue I'm having is that the built-in resolution scaling is not working. So my screen is actually running at the full 3840×2160, which on a 24″ monitor is pretty tiny. Not completely unusable for messing about testing, but not the kind of thing you'd want to stare at all day long. So once I get the refresh rate problem nicked, I'll figure out how to get it to show screen real estate something closer to 2560×1440 only with a whole lot more pixels to smooth things out.
That said, my initial playing around with images in Lightroom has made me feel similar to how I felt when I first upgraded to a color calibrated screen.  All the little flaws in sharpness that you really didn't notice before because you were going between a low-res overview and 100% are now glaringly obvious, much like they are when you look at a print. It's pretty amazing. 180ppi on a desktop screen. Yum.
Round Two
My next move was to install 10.8.5  on an extra drive to see if the passing comment I read on an online forum was true. The idea was that the web drivers that Nvidia themselves released for Mountain Lion allowed for the illusive MST mode. No dice. Unfortunately I had the same results as in Mavericks. Looks like I may have to want for a driver update or some coding genius to come along and help me out.
HiDPI Mode (Kinda!)
Ok, so I've made some progress. I've got the screen running like a pixel doubled 1080p screen. So it's showing the screen real estate of 1920×1080 while being really really smooth and sharp. To do this I had to enable HiDPI mode in Mavericks using this terminal command:
sudo defaults write /Library/Preferences/com.apple.windowserver.plist DisplayResolutionEnabled -bool true
Once I did that, 1920×1080 (HiDPI) showed up under the 'Scaled' section in the display preferences. The problem was that every time I tried enable it, the system would automatically select a refresh rate of 30.3Hz which made the Dell monitor just barf and show me a black screen. To get past this hurdle I switched back to 'Best for Display' and then selected 'Scaled' again while holding down the Option key. That allowed me to choose 30Hz AND 1920×1080 (HiDPI), and Voila! Retina style beauty.  The next step is for it to give me a little bit more room to breathe. What I'd love is the real estate of 2560×1440 while using the pixels to smooth things out.
I still have the problem of 30Hz vs 60Hz refresh rate, but that may have to wait for a driver update that may or may not come. That said, we're back in the "Ok, I'm going to keep this thing" camp. I don't think it's going back.  Also apparently there is a bug in Chrome that makes it completely slow on HiDPI external monitors. So I'm temporarily using Safari for the time being.
More to come as I continue my troubleshooting…
As most of my readers know, I use a Hackintosh as my main workstation. That means that I build my own computer from parts (motherboard, cpu, ram, power supply, drives, etc) and then use a bit of magic from www.tonymacx86.com to make it run the latest version of Mac OS. Which currently is 10.8 Mountain Lion.
Early last year I built a new and very fast machine based on the top-of-the-line Intel 3770K CPU, 32GB of RAM, 240GB Intel 520 SSD and the rest of it. State of the art and very fast. The only part of the machine that I kept from my old box was the Radeon 5770 video card. At the time running Snow Leopard and Lion this card worked just fine. Especially for what I need it to do. Mostly 2D work in Lightroom and Photoshop. And it should work well since it's the the stock card (STILL!) in the Apple Mac Pro.
For some reason though, the combination of my new computer, old GPU, Mountain Lion, and Adobe CS6 Suite just doesn't work all that well. If I leave on all of the GPU acceleration in the Performance tab of the PhotoShop Preferences, I get weird effects. The mouse lags a little bit behind my Wacom tablet cursor for example. And using things like a fairly small healing brush lock-up the computer for a quarter second with each stroke. Little weird things like that. Certainly not the kind of stuff that should be happening with a computer at this level.
I found that if I turned the acceleration down to 'Basic' that performance got smoother, but then I was losing some of the functionality inherent with Adobe's inclusion of GPU acceleration in the first place. Needless to say, a little frustrating. After a bunch of setting changes and reboots, I've narrowed the problem down to the 5770 card. Not sure exactly what the problem is, but I'm not going to spend any more time fighting it. Time to move on.
So I started doing a little research into possible options. Apparently Apple as moved to Nvidia GPUs in their latest generation of machines, which is great because then there are native drivers for almost all of the latest 6xx series of cards. The move to Nvidia also means that I'd be able to enable CUDA acceleration in Premiere CS6 as well. Which apparently has drastic speed benefits in render times and such. TonyMac even has a list of natively compatible cards here on his site.
The problem is price. The card I had been looking at for the last month was the GTX 660ti. It's basically the GTX 670 with one of the cores turned off. 88% of the performance for 75% of the price of the 670. The problem is that it's still $300, and that's a LITTLE too much for me to spend on a video card. Especially since I do little video editing and zero 3D gaming.
So I spent a few minutes this morning doing some extra research and found this page on Puget System's site. Now Puget builds custom Windows workstations for higher-end clients and I trust their opinions. Basically they ran some Photoshop benchmarks with a bunch of modern GPUs and the results came out that the far cheaper GTX 650 gives me almost all of the performance of the high-end cards for what I use it for. And for only $120. SOLD.
The thing is that Puget was running the benchmarks in Windows and I'll be using it in Mac OS, but I think that the underlying OpenGL code in the Adobe products is likely very similar, so I'm hoping that I just made out like a bandit. By the way, I ended up ordering the Gigabyte brand version of the 650 with 1GB of RAM from NewEgg. I love me some NewEgg and I get free shipping from right across the river in NJ with no sales tax.
It should be here on Monday at which point I'll take the afternoon to do my planned reinstall of the OS and apps with the new card. Will let you all know how it goes.
UPDATE: The Computer Has Been Sold. But I'm going to leave this post up for historical reasons.
I just posted the following ad on Craig's List, but I'd rather sell it to someone who reads my blog, so for you I'm lowering the price to $500 cash. You'll save $100 on an already great deal. And yes, this is the hardware from the hackintosh I was using up until a few weeks ago, though I'm selling it with Windows installed. If you want to try to install MacOS again, that's on you.
————————————–
I'm selling my old computer, and I'll admit that it's making me a little sad to see it go. It's a fast and very quiet little machine whose parts are going for about $800 on ebay right now if you wanted to send it to the chop shop. And that's without the software I'm throwing in.
I'd rather not take the time to sell piecemeal so I'm going to give one of you a really good deal instead. Great for photo and video editing, web development, etc. I know because that's what I was using it for.
The case is a little banged up (I'm missing one drive bay cover from the front), but as Han Solo once said, "She may not look like much, but she's got it where it counts, kid."
Intel i7-920 @ 2.8GHz CPU
Asus P6T Workstation Professional Motherboard
24GB of 1600MHz Corsair Vengeance RAM
Zotac GT430 1GB Video Card
80GB Intel G2 SSD 
1TB Samsung 7200rpm Hard Drive
Samsung DVD-RW drive
ThermalRight Ultra-120 Cooler with Nexus Fan
Seasonic SS-550 Power Supply
Antec Solo Case
Microsoft Windows 7 Home Premium DVD
Adobe Creative Suite Design Premium CS4 Education Edition
Computer only. No Monitor, keyboard, mouse, etc. Well I guess if you really needed a mouse I could dig an old one up, but I'd be willing to guess that if you're thinking about buying this machine, you've got one already.
Works great, being sold as is, with a brand new install of Win7 with all updates installed.
$500. First come, first serve.  Email me  'bill at billwadman dot com'
Some pictures: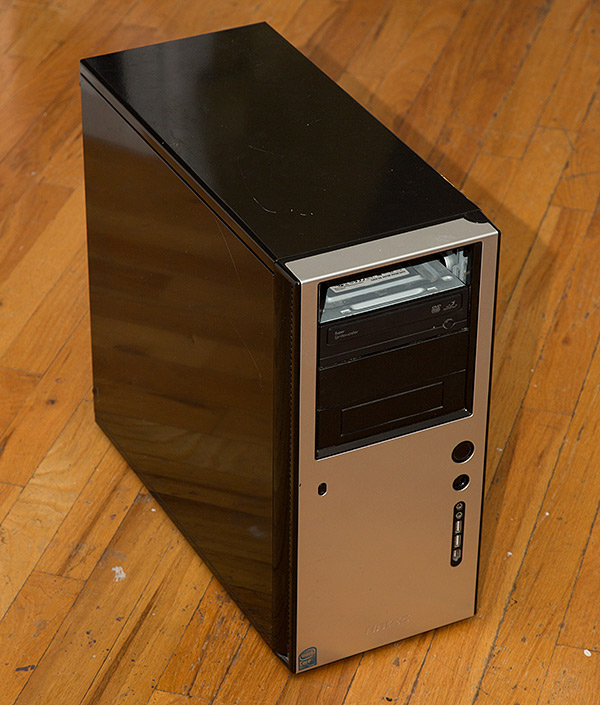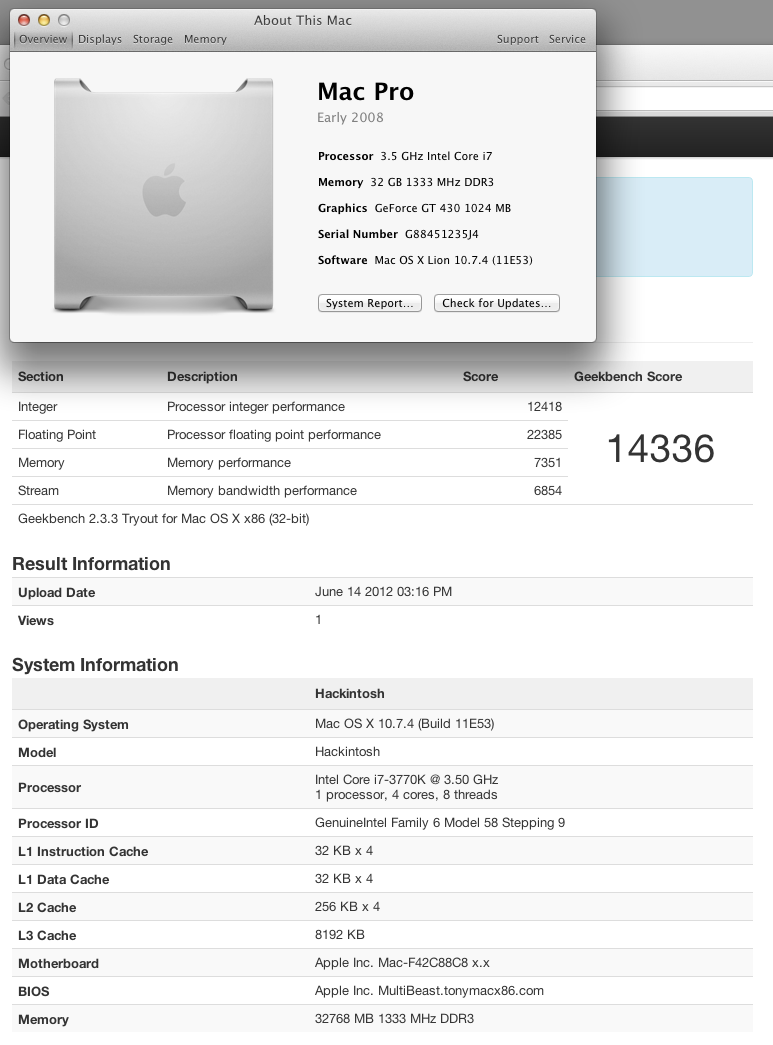 Last time we spoke a few weeks ago I had my new Hackintosh up and running, but only barely. The hardware was fine, but since Apple didn't yet support the new chips and features it was a pale shell of the machine it wanted to be. Hacked kernel, no USB3, no power management. Basically, not quite ready for prime time.
Well on Monday, Apple announced their first Ivy Bridge based Macs in the form of the updated portable line. Theoretically, this included all the files the hackintosh community needed to finally get things working for me, but you couldn't just grab the files off the drive of the new machines, apparently it doesn't quite work that way. However at about midnight on Monday, Apple released a big 1GB update file for the new Macbook Pro Retina, which included new versions of all the necessary files.  You couldn't just install the update, but people in the forums started pulling things like the new Mach Kernel and power management out and trying to install them to see what happened.
So I decided to throw caution to the wind and did some manual shenanigans to install Lion 10.7.4 with the latest Ivy supporting kernel and some other stuff and it worked well enough that I was about to write a little post giving my step-by-step process, gloating a little, and then recommending that you wait until the TonyMac guys get the final solutions out. Great plan, however while I'm writing, they did just that.
BridgeHelper 5 was just released and gives full ivy bridge support, with power management and USB3.  I plugged in my new USB3 drive dock and an ssd just to check and was getting 230MB/s reads (which is about the limit of the old Intel G2 drive I was using to test).
And perhaps best of all, the new machine sleeps and wakes up like baby, but without all the crying.  Seriously, it's nuts fast.  Even booting from the Apple logo to login is about 5 seconds. I'm currently overclocking it to about 4GHz, but I'm going to shoot for a bit more as time goes by and I feel more comfortable with it.
The only little problem I've got at the moment is that one of my case fans is running at full speed though I've asked the EFI to slow it down.  I've got to look into that, but really, can I complain? Finally got my Ivy Hack up and running.  Moved my data drives over a few minutes ago. Let's see how it feels in daily use.  More as I explore but follow me on twitter if you want to keep up, I'll post and forward more there for little things.
I know it's been a couple weeks since my last Hackintosh update and I apologize. There are a couple of reasons for this, for one I've been busy and secondly I'm in a bit of a waiting period which I'll explain.
For those of you who haven't been keeping up with the saga, I recommend you check out the first two installments in the series.
Building My New Ivy Bridge Hackintosh Workstation
So, since the last time we met, I've gone and bought all the parts I mentioned.  The Intel 3770k CPU and Gigabyte Z77-UD5H Motherboard. For a cooler I went with a very reasonable $35 CoolerMaster tower cooler and it's stock fan which is surprisingly quiet when it all comes together.
Once all the parts were delivered I spent an hour putting the whole thing together.  Overall it was one of the easier builds I've ever done. In fact, once I had it all together and everything plugged in it looked too clean and empty, so much so that I had a terrible feeling that I had forgotten something important, but apparently I just did a good job in planning and building so everything went smoothly.
First boot was with a single stick of ram (still 8GB) in there to make sure nothing blows up. Plugged in a monitor, keyboard, and mouse and prayed as I pressed the power button on the case. Fans spun up, and the bios logo lit up the screen.  Pressed delete to get into the new uEFI bios and set everything up.  Everything was going swimmingly. To test and make sure everything was working correctly I intended to install Windows 7 and do some stress testing, but I kept getting errors while installing from the DVD which I'll admit, scared me a bit.  Only the next day did I figure out that there was a pretty nasty smudge on the disc that I didn't notice which was causing read errors.  Whoops.  With that fixed, I booted up Win7, installed updates and drivers and proceeded to run Prime95 while overclocking the CPU a bit. I've currently got it at 4.3GHz at stock voltage, which is just fine for me right now.
With everything tested it was time to install MacOS.  The thing is that there are as of yet no Macs which use this latest series of processors, which means that MacOS doens't know what to do with it and thus just barfs if you try to install.  So MacMan over at TonyMacx86.com did a neat little trick.  You see, MacOS is based upon an open source UNIX kernel called Darwin. As part of there using it, the source code for the kernel has to be kept public, so MacMan went over and modified the kernel to recognize the Ivy Bridge CPUs and allow MacOS to install. Bridgehelper as it's called gets it to install and run, but you can't use any power management features or some of the chipset specific features such as USB3 just yet. It's a temporary fix until Apple comes out with Ivy Bridge iMac and MacBook Pros in the next few weeks, at which point I'd imagine it'll take all of a couple of days for the high priests over there to get everything happening smoothly.
So, until then I just don't trust the new machine as my daily driver, mostly because I know I'm going to have to wipe off and reinstall everything in a matter of days, so I figure I'll just hold off. However I can make a few observations. First is that this thing is FAST, as in really fast.  Even in it's slightly cobbled together state it boot in like 15 seconds from dead stop.  Also, I put in two 2TB green drives and bonded them together as a software RAID-0 as my main photo storage which will be backed-up every couple of hours for security sake.  I haven't gotten to work off of them yet, but using the BlackMagic Disk Speed Test available for free in the App Store I was getting over 200MB/s at the beginning of the disk.  Even with my 2.2GB library on there, I was still getting 160MB/s or more. This is much better than single drives and should significantly help the disk bottleneck.  This faster storage subsystem plus Photoshop CS6's background saving should speed up my workflow significantly.
There you have it.  Not quite there yet, but well beyond where I was last time.  Next update should be in a couple weeks when Apple puts out some Ivy Bridge machines.  There are rumors that this is going to happen at WWDC in early June along with the early release of Mountain Lion.  I guess we'll have to see.  Exciting stuff.