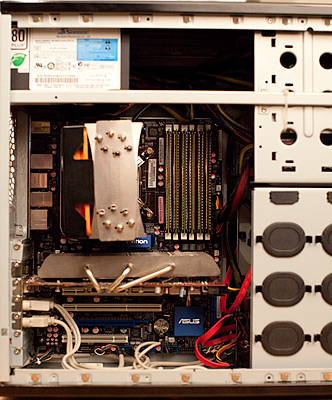 While I'm writing this sitting on my couch with a Macbook Air, when I really need to get work done I do so at my desktop computer. Old school towers are still great as a photographer's workstation and there are reasons for that. You can use the best and fastest components, they're easily upgradable, they can fit more storage, and for me, they're fun to build.
As many of you who read my blog may already know, I use a Hackintosh as my main desktop. Have so for about a year now. For the uninitiated, a Hackintosh means that I'm running Mac OS X on a computer that's not built by Apple. Some people install it on Dell and HP machines, but in this case the computer was build by me from parts about 3 years ago. At first the OS X thing was an experiment but I'm going to stick with it.
My current i7-920 machine is still relatively fast, it's got 24GB of RAM and 6+TB of drives, but it's now 3 years old and I've been itching to upgrade. To that end I've started putting together the pieces I need to build my new machine and thought I might document the process. The main catalyst is the upcoming release of the new Intel 'Ivy Bridge' chips which should happen in the next few weeks. So while I've got most of it planned out, there are still a few grey areas to fill in as I go.
There are a few things about my current machine that I'd like to address in the process of building the new one. First, I can't stand the noise from the fan on the video card. I'm a pretty serious stickler for quiet computers, and the rest of the fans in my machine were bought with that in mind, but the Gigabyte 5770 'Batmobile' card I'm using spins up far too often. And since I never game and really only use Lightroom, Photoshop, and Chrome with any regularity, I don't really think I need a fast card, so I'm going to try to go without. Also, while I've got plenty of storage which I back-up nightly, I'd really love to speed it all up and simply my drive layout, so I'm looking into running 3 drives in a RAID 5 array as my main storage.
So here's my planned parts list so far:
CPU ~$330
Intel i7-3770k
Top of the line consumer processor. Quad core @ 3.5GHz stock, but it's unlocked which means it's begging to be over clocked. I'm going to try to get mine to 4.5GHz with some aftermarket air cooling. I'd love 6 core, but for the work I do I don't think I'd get enough of an advantage to justify the cost increase.
Motherboard
No idea as of yet since none have really been announced. For some reason, Gigabyte brand motherboards have become the most well supported in the Hackintosh world, so I'm leaning towards those for now. I'd love to have Thunderbolt built in, and there are a few manufacturers who have announced it as a feature. All Thunderbolt controller chips are from Intel right now, so whatever they're using SHOULD be compatible with OS X without too much work. The new boards will have USB3 anyway which should be plenty fast enough for backups using bare drives in one of those hard drive docks.
One big motherboard question is if I can get away with using a Micro ATX sized board instead of a full size ATX. I don't need the extra slots, and would love to shrink the size of the case I need in the process. The motherboard is the biggest hole in my plan right now.
Video Card
None
Well not none, but my plan it to try and use the new Intel HD4000 graphics which are built into the 3770K CPU as my graphics card. Based upon everything I've heard, it should be plenty fast for what I need it for which is almost entirely 2D work. Photoshop CS6 relies on OpenGL much more leveraging the same graphics subsystem as Premiere, but I still think I might be able to get away with this latest on-board graphics. Cost is a great advantage, as is the lack of additional fans to cool another card, which solves one of the problems I have with my current rig.
Worst case scenario, I'll get a lower-end nVidia passively cooled card like a GT430. Let's see if we can do without it though, shall we?
RAM ~$250
32GB DDR3 in 4x 8GB DIMM
I'm planning to put 32GB of RAM in there. An upgrade from the 24GB I'm using now, and a no brainer for Photoshop use especially since RAM is pretty cheap at the moment.
Boot Drive
Intel 520 240GB SSD
This one I already bought last week because it was on sale. I went with the new 240GB model Intel 520 SSD. It wasn't cheap, a bit over $300, but it's gotten great reviews and it's crazy fast. My current machine uses an 80GB Intel G2 SSD from a couple of years ago and I've had zero problems with it. Which is something I can say of almost every Intel product I've ever bought. They do reliability right.
Storage
4 or 6GB RAID-5 Array
So I currently use a pair of 2TB Western Digital Green drives which I backup nightly to sparse images on a 3TB Hitachi drive using Superduper! I've also got an additional 2TB 'media' drive which I use to store music and movies and software downloads and such. I back this one up every once in a while but it's not vitally important stuff.
What I'd love to do is take 3 of the 2TB WD drives and create a RAID 5 array. This would have the benefits of having just one photo drive I have to keep track of, a big speed boost because of the striping data among the drives and a certain amount of data security due to the redundancy of RAID 5. I've looked into a RocketRAID card to do this for me as I want to use hardware RAID, but I haven't come down to a best fit yet. Advice on this matter is appreciated.
The one downside to a big array like that is that my backups might be a bit more of a pain in the neck as I'll need another array or a single big 4TB drive to backup to and those aren't cheap right now. In fact hard drives in general aren't cheap right now due to the floods in Thailand last year, but they're getting better.
Power Supply ~$120
Seasonic X750 750W
I'm a fan of Seasonic power supplies. They're built like tanks, and they're quiet and they've never let me down. I saw a great deal on this power supply last week so I snapped it up. Best part about this model is the fact that at under a 20% load, the fan doesn't turn on at all. So it's crazy quiet. It's also got modular cables, so you only plug in the ones you need. No more extra cables to hide away. Looking forward to trying it out.
Case ~$120
Fractal Design Define Mini
If I can pull off the MicroATX motherboard, this is the case I'm going with. If I can't I'll get it's big brother. Either way, I've heard great things about it. Resonance dampened panels and rubber dampened sleds for 6 hard drives. More than enough for my plans.
———–
So that's what I've got so far. Hopefully Intel will announce the new chips in a week or two and we can get on with the fun of building this thing out.
Any suggestions or advice on the selections above are appreciated if you want to leave a comment.
More to come…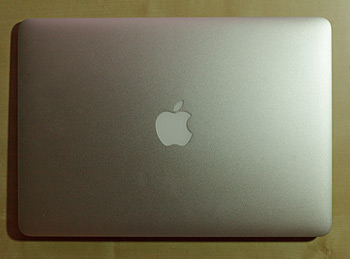 My 2008 unibody aluminum Macbook, yes that one that they only made for about 5 months, was getting a little long in the tooth. So I gave my partner Heather my unibody as a replacement for her black Macbook and started looking at the upgrade options.
First off, I'd like to point out that at no point is my laptop my main machine. I've got a very powerful Hackintosh with 24GB of ram and 9TB of drives with which I do serious work. My laptop is usually just sitting next to me with my email up, or for skyping with the family, or reading the news on the bed. Occasionally however, I travel with it and use it to backup my cards and do some basic Lightroom adjustments and minor Photoshop before posting an image or two online.
An iPad was ruled out immediately. I had bought and sold one a few months ago when the iPad 2 was released. I was largely unimpressed. I like having a keyboard and create more than I consume, so I needed to move further up the chain. I knew I wanted something light, and I don't need the juice in a Macbook Pro. Again, this isn't my main machine. This left me to consider the new Airs.
With the i5 processors and 128GB SSD for a reasonable price, I was mostly sold from the start. The main question was deciding between 11″ and 13″. I love the idea of the 11″. Little tiny thing not much bigger than an iPad that you can run actually software on. However, in the end I went with 13″ for a couple of reasons. First, when working with pictures, the extra pixels make a difference. Especially the 144 extra vertical pixels, especially in Lightroom where the filmstrip takes up vertical space along the bottom. Secondly, the 11″ stock configuration has a slightly slower CPU, 1.6GHz vs 1.7GHz, which may not sound like much, but modern Intel chips do this neat trick where they overclock themselves when not using all the cores. The 1.6 chip overclocks to 2.3GHz where the 1.7 overclocks to 2.7GHz, and that extra 400MHz can make a difference when you're rendering a couple hundred RAW previews which generally happens on a single thread.
So I stopped by the Apple store down on 14th street, and picked myself up the bottom of the rung 13″ with 4GB of Ram and 128GB SSD with my ASMP Apple discount. Came to about $1325 after tax.  Just for a minute consider the amount of computing power in a chasis less than 3 pounds which costs so little.  That's about half what a decently set up original IBM PC would have cost, and that's not even taking inflation into account.  Moore's law is your friend.
I brought it home and then agonized with myself for a couple hours over whether I should even open the box. $1300 is not a lot for what you get, but it's certainly not pocket change. And how often do I NEED a laptop anyway? Shouldn't I just save the money and take it back? I constantly get buyer's remorse after large purchases. It's like my father is constantly behind my shoulder making me feel guilty.  Well, I won't build the suspense any longer, I opened the damn box up and here are a few of my thoughts based upon less than a day of use.
First off it's fast. Like really fast.  But this is to be expected, it's got a fast SSD in it. My first in a laptop.  So not only is everything nearly instantaneous, even the boot time isn't more than a few seconds really, but it's also almost completely silent.  The only thing I've found to get the fans going so far is skype video, but that's to be expected.  I would say that if you weren't doing serious photo or video work and instead using the computer for what other people use their computers for,( i.e. web, email, facebook, calendar, music) that this would make a fine primary machine as long as you can live within 128GB of drive space. You would probably want to get an extra external drive.  That said, it would probably be the fastest feeling computer most people have ever used. It's that zippy.
Let's talk about the screen. It's got a nice resolution for the size (1440×900) and it's plenty bright, but it's still a TN panel, so there is still some color shift in both the vertical and horizontal axis. And I suspect the color depth is 6 bits per channel at best. There's some serious dithering going on in the radial gradients on the login page. It's better than my last Macbook though, and considering the size of the machine it's in I'll give it the benefit of the doubt. It wouldn't work as your primary monitor, however, and sadly, Apple's stock profiles suck. Whatever white point they use is way off from the 6500k that I work in.  Also as it turns out, the software that is used with my i1 Display 2 colorimeter is PowerPC based. So without Rosetta in this new OS, I'm up the creek on pulling this screen into shape.   So I'll have to find a way around that profiling issue before giving this the seal of approval from a color point of view.
Battery life is impressive so far, I've not used it past 70% or so, but it looks like it's between 5-6 hours of my normal use.  When I was on Skype earlier it quickly dropped the estimated time down from 6 hours to 2 hours. So be warned that it's not limitless.  I have still not tried pulling some RAW images in to see how they're handled.  On my old machine, loading in 150 images from my 5D2 and letting it build previews would quickly leave me with half my battery in only 15 minutes.  Hopefully this will be a bit better.

It's obviously a light laptop, though somehow it doesn't feel as light as it is to me sometimes. Pick up my old one in one hand, and the new one in the other and there's difference, but it's not the night and day difference that the thickness of the machines would imply. Maybe that's just more of my lust for the 11″ which is another half pound lighter still. Also I've found when sitting on the couch typing, like I am right now, it's almost too light in the base. Not quite enough to counterweight the screen to keep it stable under your hands.  I'm certainly not asking for it to be heavier, but it's an interesting unintended consequence.
Overall,  so far, so good.  It's fast, light, relatively small and does everything it's supposed to do well. I'll give it 100 RAW files to chew through tomorrow and get back to you on how it acts as a travel photo machine. My guess is that within the limitations of the screen and battery, it'll do just fine. By far the nicest laptop I've owned when you average everything out. But then as technology improves, that's exactly how it should be. Better, faster, cheaper.  Keep it up, guys.
UPDATE:
Ok, so I've imported 206 21MP RAW files into Lightroom 3 and rendered standard previews. The battery went from 48% to 42% in the 12 minutes or so it took, and the laptop fans didn't sound like they were trying to take off for Madrid. All a huge improvement on my old unibody Macbook. Part of this is due to the more efficient/lower voltage CPU I'm sure, but I'll give some credit to the SSD as well. No spinning means faster disk access and less juice used.
Now if I can just figure out a way to profile this screen without buying a new puck and we'll be in business.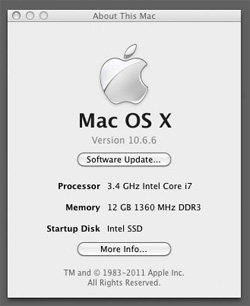 Today marks the 3 month anniversary of me installing Mac OS on my custom built i7 machine and using it as my primary computer. 3 months with no problems whatsoever.  Well, that's not true, there are a few niggling things on the list, but they're pretty minor overall.
1) I've got to type "Graphics Mode"="2560x1600x32@60Hz" in the bootloader or else the desktop never shows up. Apparently there is a way to put this in some config file so that it happens automatically, but I've tried everything I can find written up online to no avail.  If any geniuses out there have any ideas, let me know. This is not the norm on hackintosh, just a quirk of my own configuration.
2) I really miss being able to hot-swap SATA drives. I've got one of those slot load drive bays on the front of the computer which is great to pop in some old drive to find something in cold storage, but MacOS doesn't know what to do and the drive never mounts.  Really frustrating and silly.  Come on Apple, get with the future.
3) I'm a little concerned with Apples "Lion will only be available through the online Mac App Store app" stance. There's got to be a way to put the image on a disk, how else would you reinstall the OS if you have a hard drive failure? I'm sure my fellow compatriots will come up with ways around anything, but I hope it doesn't slow down it's 'time to my SSD'
4) Every 10th time or so, the apple keyboard I'm using doesn't get found on boot and I've got to restart. Not sure if this is an apple keyboard thing, or an Asus Bios thing, or most likely the USB extension cable I have to use because the one on the Apple Keyboard is about 6 inches long.
Those few things aside though, I'm really loving it.  Mac OS is so much better on a really fast machine. And once you get some keyboard commands down.  If I had to buy a computer right now, I'd probably build a nice Sandy Bridge Hackintosh.  Though I might wait for the high-end 6 slot motherboards to come out, so I can use more than 16GB of RAM (4x4GB Dimms, I know 8GB dimms exist, but they're crazy expensive right now)  I upgraded to 24GB last month and I don't really want to go backward. That said, I have no problems with the performance of my computer. It's crazy fast.  So if you're technically savvy and want to have some fun, I suggest giving the Hackintosh route a shot.
Here's a link to my previous Hackintosh buyers guide.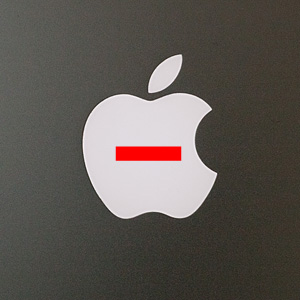 As most of you who read my blog know, I just recently moved to Mac OS 10.6 as my primary OS. Part of this was just an experiment, part of it is interoperability with Mac OS formated disks from other people which I need to use, and part of it was the fun of getting my Hackintosh to work (I've had a unibody Macbook for years as well but that's not up to what I need to do photographically). That said, I'm pretty happy overall. There are still a few things that drive me nuts. Thought you might get a kick out of my misery.
Things that drive me nuts about Mac OS:
- In Windows I loved that I could maximize my windows to use all the screen real estate and still jump between them because the taskbar is always down the bottom of the screen. I know there is a full screen mode on a lot of apps, but most of the time I just want to click a button and not be seeing all the other crap on the desktop. If you've got Photoshop and Dreamweaver and a browser open, you end up clicking on the wrong thing and switching applications when you didn't mean to. Miss the edge of the window when you click to resize and POOF all your toolbars are gone and you're in Finder somehow. The green window button makes things bigger, but seems pretty unpredictable as to what it's going to do exactly.
- Hide vs Minimize. Two ways to get rid of a window. You can minimize it to the dock but to get it back you've got to click it's little icon down on the right side of the dock (and you wouldn't notice it if you hide your dock). Clicking on the related application icon in the dock doesn't bring the minimized window back up, you have to explicitly do it. The other option is to hide the app (command + H) which makes is disappear and clicking the app icon DOES bring the window back. Oh and minimized stuff shows up in Expose, hidden apps do not. So you have to know that you've hidden the window, otherwise they're in the ether. Weird stuff.
- In Photoshop CS5 on windows, you can be in full screen mode and still have your image windows as tabs. I have yet to figure out how to do that on the Mac. So jumping between images is a matter of using the Windows menu.
- Icons don't reflow to fill available space if you resize a Finder window. I know this is an old Mac thing and I understand how this could be useful if you like to layout your icons in a certain way to help remember spatially what is what. But it's annoying when you just want to see more in the window.
- Resizing from on the bottom left corner. Why not let me resize from any side of the window I want. Annoying. This one has been around forever and is apparently changing in Lion. Long overdue.
- In Finder you can't cut and paste files to move them.  You've got to copy them and then delete the originals. Oh and the copying versus moving sometimes gets me mixed up on when it does which and what keyboard modifier key I need to use.
- The whole keeping applications open even when no windows exist is a hard thing to get used to too.  I guess when you've got 12GB of RAM you can let Text Edit stay in memory, but it's still annoying that I just opened up a .txt file to copy a chuck of text and then I've got to go manually quit out of the application instead of just closing the window.  That's a paradigm shift I guess.
————-
That's all I can think of at the moment, I'm sure there are more.
Don't get me wrong, there are a lot of things I really love about it, and new ways I've found of speeding up my workflow.  I'll get into those a in the next post, but in the meantime, if anyone's got answers to the above problems, feel free to leave a comment. I'd love a solution or two.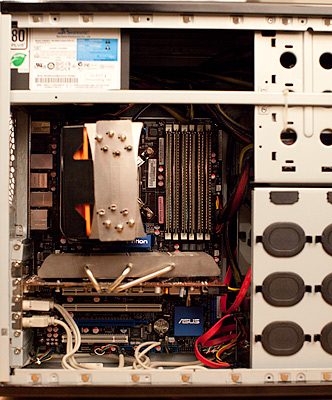 Let's say you've read Part 1 and Part 2 of my Photo Computer Buyer's Guide with all the attention of Ken Jennings in Double Jeopardy, but you feel like your needs have slipped through the cracks.  The laptops and iMac are all well and good, but you really want the expandability of a Mac Pro with a really great screen but you don't want to spend $5000 to get it. Well if you really want to run Mac OS X you're not afraid to get your hands dirty there's always a Hackintosh.
We need to back up one second. In the old days (read, from the mid 1990′s til 2006) Apple computers ran on PowerPC processors.  This is a different platform than the Intel x86 machines that Windows has ran on since it's inception. Apple used to make a big stink out of this fact and laud the PowerPC-based processors as being faster than relavant x86 ones. This was dubious at the time, but by the mid 2000′s, Intel had taken their architecture to levels of performance that IBM (the maker of most of Apple's fastest chips) just couldn't and Apple had a problem on their hands. So in 2006 Steve Jobs announced that they had been planning for this contingency for years and that they had OS X running on x86 processors too. In fact after making the announcement he mentioned that all the demos he had been running to show off Apple software the earlier in the talk had been running on a Pentium 4 computer and not a PowerMac as you would have thought.  It was an "Oooo" moment and for more than one reason.
Soon there were people thinking now that Macs were  just  fancy Intel boxes, why not try to run Mac OS on any Intel Box.  Well there were a number of reasons this was a problem. Mac's were built around a very specific set of hardware and the drivers required to get it working on anything but those setups didn't really exist. Also Mac's don't use a standard BIOS that most Windows computers used to start up. Instead they used what is called an EFI (extensible firmware interface, but you don't need to know that) which is basically a fancier, more modern BIOS-like system.  This made it possible for them to limit the number of machines that Mac OS would boot on.  No Apple hardware, no can do.  The thing is, computer nerds are amazing.  And so in no time there were people hacking the system to work on specific sets of hardware, but you couldn't use software update a lot of the time and things were more buggy.  Definitely not the kind of system you want to rely on. This is where we were 2-3 years ago.
Now we're in a whole new world. Hackers have gotten around just about every problem with solutions which are elegant and fairly easy.  So if you're an enthusiast who has built their own computer from parts before, or a tinkerer what wants to try (it's really not hard. No soldering or anything, just plugging stuff in) you too can build a custom computer which runs Mac OS X. A Hackintosh. I've been running one for over a month as my main desktop production machine and have had nary a crash.
Let me say a couple things here: One, I wouldn't do this for my Mom.  There may be unforeseen complications in the future and you can't bring it to the Genius Bar to get fixed. That said, there is a rabid community of people online who go out of their way to make this stuff work. If you follow their advice, you're in good shape. System software updates 10.6.5 > 10.6.6 for example, just wait a day before you install them so people smarter than you can figure out any problems and workarounds.  And Two: It may not be technically legal. The EULA (End user licensing agreement) that comes with OS X Snow Leopard says it's only useable on an Apple Computer.  I think that's crazy. If I'm buying the software (which I have) I should be able to do what I want with it in the privacy of my own home. For what it's worth, Apple hasn't ever sued any individuals for doing this.  They did shut down a company who was building them and selling them online. For personal use, I wouldn't worry about it.
So where do you start? Well you need to buy the parts and build the computer. The building the computer part is fun, and Ars Technica just posted a long form guide about what's involved. It even walks you through each step.
http://arstechnica.com/ask-ars/2011/04/how-to-build-your-own-computer-ask-ars-diy-series-part-i.ars
But which parts to buy to make your machine as Hackintosh friendly as possible? There are a number of sites all over the net talking about Hackinoshes but the one I've stuck with is http://www.tonymacx86.com/ Great blog with news, great forums for tips and tricks and information. Best of all, the people on this site have specific sets of components that they've tested to work great as a Mac which they call CustoMac Builds.  Mostly it's about getting the Motherboard, Processor, and Graphics Card right. For a number of reasons, certain Gigabyte brand motherboards seem to be the way to go. The hard drives, case, power supply, dvd drive, fans, keyboard, mouse, etc don't really matter as much.  Either way, we're talking serious machines which rival and beat the 4 core Mac Pro's for around $1300.   In fact they even specced out a CustoMac Pro last fall for $1224. I'd imagine those parts are even cheaper now. This leaves you plenty of money left over to buy a nice NEC monitor like their latest 27″ beauty.
Once you've got the computer built and booting, the process basically involves 4 steps. First you boot with an iBoot CD you've burned from a TonyMac download.  You then replace that CD with the Mac OS install disc and install MacOS. Then reboot using the iBoot cd again, but instead of going into the installer, you boot into Mac OS from your hard drive. Then you use the system update you download from Apple to bring your computer up to 10.6.7 or whatever is current and before you reboot you run the Multibeast utility to install all the drivers you need to boot without iBoot and run Mac OS on your hardware.  Sounds complex, I know, but it's really not that bad.  And once you've gotten the hang of it, it's second nature. Seriously, there are specific walkthroughs for specific builds, but here's the generic one.
http://tonymacx86.blogspot.com/2010/04/iboot-multibeast-install-mac-os-x-on.html
Usually the gear that's most compatible is one step behind the cutting edge. If you want to use the latest $800 video cards, you might have problems. Or if you want to build a system based on the latest Intel Sandy Bridge processors, you might want to wait until they get the kinks out.  For instance am running an Intel Core i7-920 processor, overclocked to 3.2GHz on an Asus P6T motherboard with 12GB of RAM installed.  I didn't build this machine to be a Hackintosh, it's one I had built over two years ago for around $1400 which still benchmarks as fast as a $3400 current Mac Pro. That said, it runs Mac OS just fine, and those are facts that I'm just fine with. So follow their guides to the most compatible setups and you should be good.
Personally I find running a Hackintosh as my main box very satisfying.  There's something smirk-worthy about making something do something it's not meant to. And doing it well to boot.  I'm going to write another post about how my workflow and backup system has changed with my switch to Mac OS, as well as a bunch of neat keyboard commands and timesavers I've been taught or figured out.  It's like going 0-60 in 3 weeks. Exciting.