On Saturday I wrote a post about my ideas for using a couple of giant pipe segments in a conceptual photo. I ended up having a couple of lovely friends Francisco Graciano and Eran Bugge come over and play the roles of savior and damsel. Here is the result (Click to enlarge):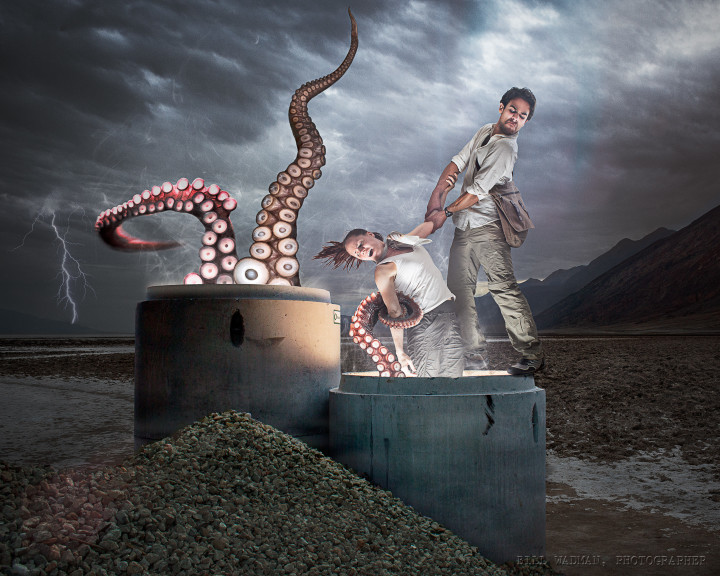 As you can see it ended up a bit differently than I had originally planned (as things like this usually do). First, I gave up on the caving idea, no exciting enough, plus I couldn't get my hands on the equipment I'd need to make it believable anyhow. That's when I came up with the idea of them running from the imagined jaws of a cthulhu-like monster from beneath the ground.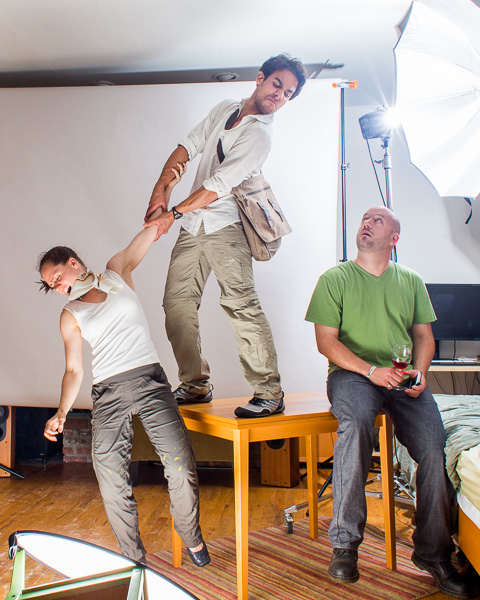 The first thing I had to do was move the pipes and gravel pile to a more desolate location, so I co-opted a landscape I took on the salt flats at the bottom of Death Valley at dawn. Much better. Cisco and Eran showed up and we shot about 30 pictures of them if various forms of the pose with Cisco standing on the edge of a table (with my friend Guillaume serving as a counterweight. As you can see I had a soft light from below blasting them to match the light from the pipe, plus one behind to rim light Cisco a little bit. There was also another strobe next to the camera bouncing off the wall to give some overall illumination to the shadows that the other two lights caused.
Compositing the two together was the hard part, along with the random science photos of tentacles. That stuff took a couple of hours. Cleaning up the masks on each element, playing with curves to try to get the contrast and brightness to match between layers.
I posted a version on facebook and G+ last night at around this point. I knew normally I'd spend another hour or two playing with it to really polish things up, but I was tired so I went to sleep. This morning however I added the final touches. Smoke coming up from the pipes, a minor lens flare or two, a lightning bolt, plus a whole lot more 1 or 2 pixel clean-ups.
Is the end result believable? Well it is a giant underground octopus attacking my friends in the middle of Death Valley so let's be reasonable about the answer to that question. That said, I think it's successful and silly, and a lot of fun. It ended up very different than I originally intended, but also much better. Not bad for a weekend project.
So my good friend Dave Keener asked me to help shoot and design his new CD cover, and I excitedly obliged since I had done the same for his previous album called The Easy Way a couple of years ago. The record was going to be called "Slugger", so I thought it would be fun to stick Dave in baseball card. The problem is, of course, that baseball cards are rectangular and covers are square. So the question was how to convert a rectangle to a square?
In the end I decided to make Dave's card just one in a pile. Luckily I have a small collection of old cards that I shot as a background with a speedlight bouncing off the opposite wall, even shot a card on top (It was a signed Reggie Jackson!) to use for it's slightly beat up edges. I also made Dave's picture match the old school original by applying a color halftone screen to make it look like it had been printed (see below). It's the details that count, right?
The music is great by the way, it's available for download on July 4th. Here's the Amazon MP3 Link. I got to play some piano and organ on it to boot!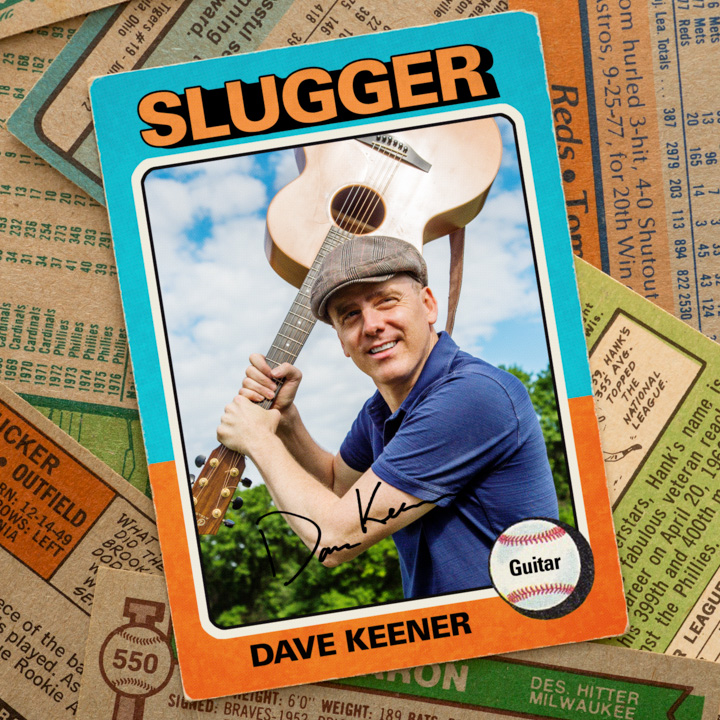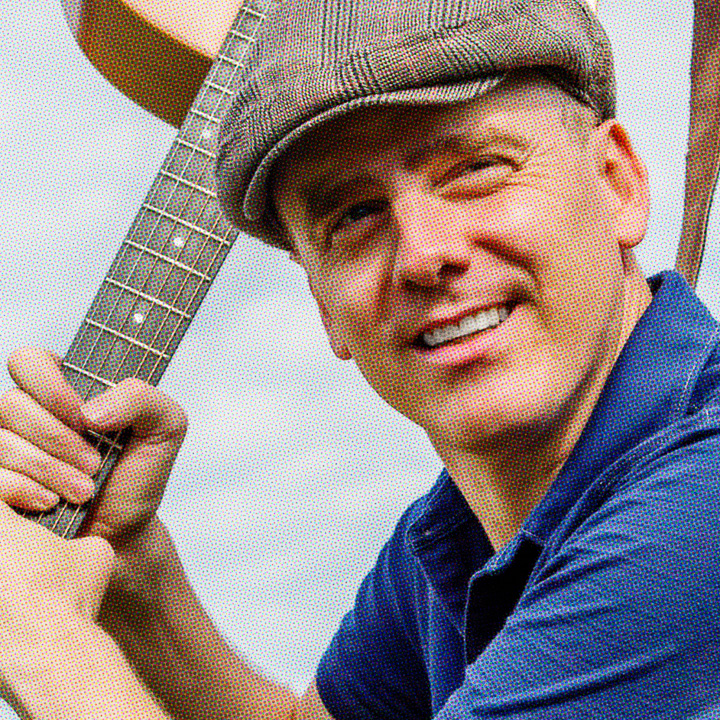 I made a little BTS video for my Hadouken shoot from a few weeks ago.
I shot the photograph above about 2 years ago at the beginning of 2011 in the diner up the street from me. It feature the actual proprietor Nick, hitting on a a beautiful woman in a red dress played by my lovely partner Heather. And of course, my friend Claude looks on in disgust from the other end of the counter. I had been meaning to bring Nick a print to put on the wall ever since I shot the picture, but it just kept getting pushed down my to-do list. So I finally printed out an 13×19″ print on my favorite Red River Ultra Pro Satin paper and then promptly let the whole thing go back to the back burner again for a week when I realized that I'd have to order a frame. However, I just remembered that I already HAD a frame I could use.
A few months ago when we were doing some promotional work together for the podcast, Frame Destination sent me an sample of what they could and I had it in my closet waiting to decide on a print that was worthy of it's loveliness. So I said, 'screw it' and decided to use the frame for the diner print I was giving to Nick.
Frame Destination will custom cut frames of almost any size from very high-quality materials. Basically it's the same or better quality than you'd get at your professional local framer, but for a fraction of the cost. Really top-notch product. I've used them to frame my Drabbles show at SoHo Photo a few years ago, and it saved me a bundle. The catch is that you've got to mount the print in the frame yourself. Static electricity and dust can be a real nightmare at times, but nothing a reader of this site can't handle. It was also the first time I had used the non-glare plexi instead of glass it I have to admit that it looks beautiful.
For those who are wondering, here's the parts list for the above frame:
Nielsen Profile 97 – Matte Black 21 (Anodized) – 18×24
Plexiglas® Non-Glare Acrylic 1/10" – 18×24
Alpharag 8-Ply – White 8660 – 13×19(18×24)
Foamboard Acid Free Artcare 3/16 inch – 18×24
So take this a reminder to print, mount, and hang some of your work so other people can enjoy it for years. If you decide to place and order with Frame Destination, try using the coupon code OTP at checkout and I think you might still get a few bucks off… It's certainly worth a try.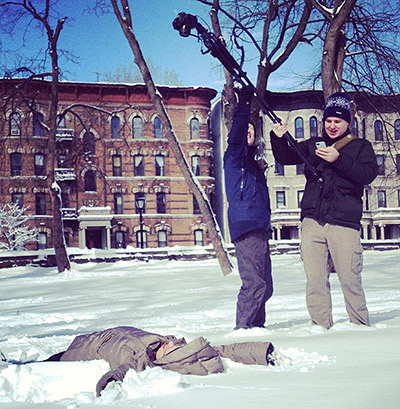 Some people have asked me how I shot the snow angel diptychs from yesterday, so I thought it'd be easier to show you. Don't worry, it'll be a short post as it wasn't a fancy setup at all.
Basically I had to find a way to get the camera up above the subjects. So either I had to go up with the camera on a platform or ladder of some kind, or I had to have a way to remote control it from below. Setting up ladders and platforms is generally frowned upon in NYC parks and I had to do this on the down-low anyway, so I settled on the second option.
First step was to find some sort of arm to stick the 5D Mark III camera and 28mm/1.8 lens at the end of. I opted to use my carbon tripod and ball head with the legs together but fully extended. This gave me about 4 or 5 feet of distance. If I anchored the feet of the tripod in my stomach, I could then use my arm to control the angles. Then the question became how to fire the shutter. My last ditch option would be to use the built-in timer and then have to get the camera in position before the camera fired. This would suck. Next up was a little cheap IR remote I bought on eBay, but I found that I couldn't control the camera angles enough to get an accurate framing. It worked, but it didn't work very well. Luckily I had a trick up my sleeve.
A couple months ago I was sent a CamRanger from the manufacturer to try out. I've been meaning to send it back to them, but I had yet to find a real life portrait shooting situation for which it was suited. Something to actually run it through it's paces on a real shoot. Well I found one today. So the Cam Ranger plugs into the camera body (I taped it to the tripod toward the top of one of the legs) and connects via wifi to your iPad or in my case iPhone (The iPad would have been too heavy). It allows you to not only fire the shutter and change exposure settings from afar, it also lets you stream liveview images from the camera to the phone. Basically full remote control. So I could have the camera up at the end of the tripod over the people and still see everything the camera saw. Firing the shutter when I had things framed just right. I have to admit that it worked flawlessly, and I have not generally had a trouble-free experience with Canon remote control even using their own software and an actual computer with a hardwired cable. Color me impressed.
As for lighting I had planned and brought some pocketWizards and a strobe with a little softbox to use, but ended up just using the hard sun as it was. It made the whole thing feel more real.
Below is a very rough video of the whole thing in action.
Video courtesy of my friend Patrick DiJusto whom you should follow on twitter.
Photo courtesy of the lovely Eran Jones.
embedded by
Embedded Video
YouTube DirektSnow Angel BTS