One of the many things that the transition to digital photography has brought us is the ubiquitous card reader. So many types, so many choices.  For example, here's the collection that I've been using for a few years: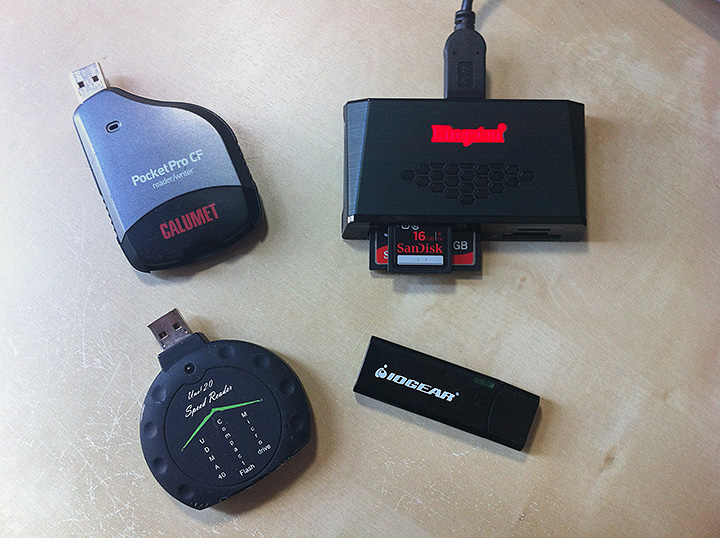 Of course you could just plug the camera into the computer with the typically included USB cable, but traditionally that has been the less popular solution. Partly because often you're using the camera with another card while the first card is being downloaded to the computer, but mostly because the USB interfaces on cameras (at least the Canon dSLRs I've used) have been pretty dreadfully slow. Even though they've been listed as USB2 for a number of years, you're lucky if you get 8-10MB/s out of them.  This is just unacceptable when we're talking about 16GB cards full of 500 images. Let's face it, we don't have all day. I've heard that the new Nikon D800 does USB3, but I haven't found out if it's any good. The growth of ethernet at the top end is also interesting, hopefully it'll trickle down on the next revision.
And so, like many of you I'm sure, I've collected and shifted around from card reader to card reader over the years. My first serious reader was the Omniflash UNO! (lower left), I know it looks crappy, and it is in many ways, but for a while it was one of the only Ultra-DMA card readers available for anything approaching a reasonable price. The UDMA part means that it was reading pretty close to the maximum speed of USB2 around 30MB/s with the fastest cards. However the best part about these is that they were crazy cheap. And by cheap I mean like $6 each. So cheap that I used to buy them in multiples so I had spares when I broke them and could keep one in every bag. They were great.
However I ran out of good ones one day and didn't have time to wait for a shipment from China, so in the meantime I went and picked up a new one at Calumet. In fact it's their name branded PocketPro CF which I've been using for the past year or so and honestly it's been trouble free. However it was over $20 and didn't do anything the cheap ones didn't do except last a bit long I guess.
With the purchase of my 5D Mark III and a really great sale at Best Buy one weekend, I switched from the 8GB SanDisk Extreme III CF cards I was using over to a couple 16GB SanDisk Extreme SD cards which top out at 45MB/s. Faster than USB2 can possibly go, and since I had built my nice new Hackintosh with USB3 built in I wanted to give it a go. So I picked up this cheap little IOGear USB3 SD card reader from Newegg. It looks like a USB flash drive to me, and it essentially is, only with a slot on the side that you pop a card into. It's a little flimsy and I don't really like the way the card sticks out of the side of it.  And for some strange reason, it wouldn't let me write to the cards from my computer saying they were read-only. In fact, every card I tried said it was read-only. None of them had the write-protect switch flipped (though I tried them in all positions including the middle which some people online suggested), but still nothing.  I've got the reader built into the Macbook Air for travel situations so I'm not sure this thing will see much use going forward, but we'll see.
So finally today I got delivered what I hope will be my one main reader for the foreseeable future. It's a Kingston FCR-HS3 and as you can see in the picture above (upper right), it's got a hole for just about everything, it's USB3, and it just heavy enough so that I can have it towards the back edge of my desk under the monitor and it'll stay out of the way without falling off. I did a little BlackMagic speed test and it read and wrote the SD cards at 42MB/s or better which is about what they're rated at.  Looks like this will be the best of all worlds. I think the only thing I have a problem with at the moment is that the logo has a glaringly bright LED underneath which flashes during disk operations.  I'll probably just cover over most of it with some gaffers tape. That should do the trick.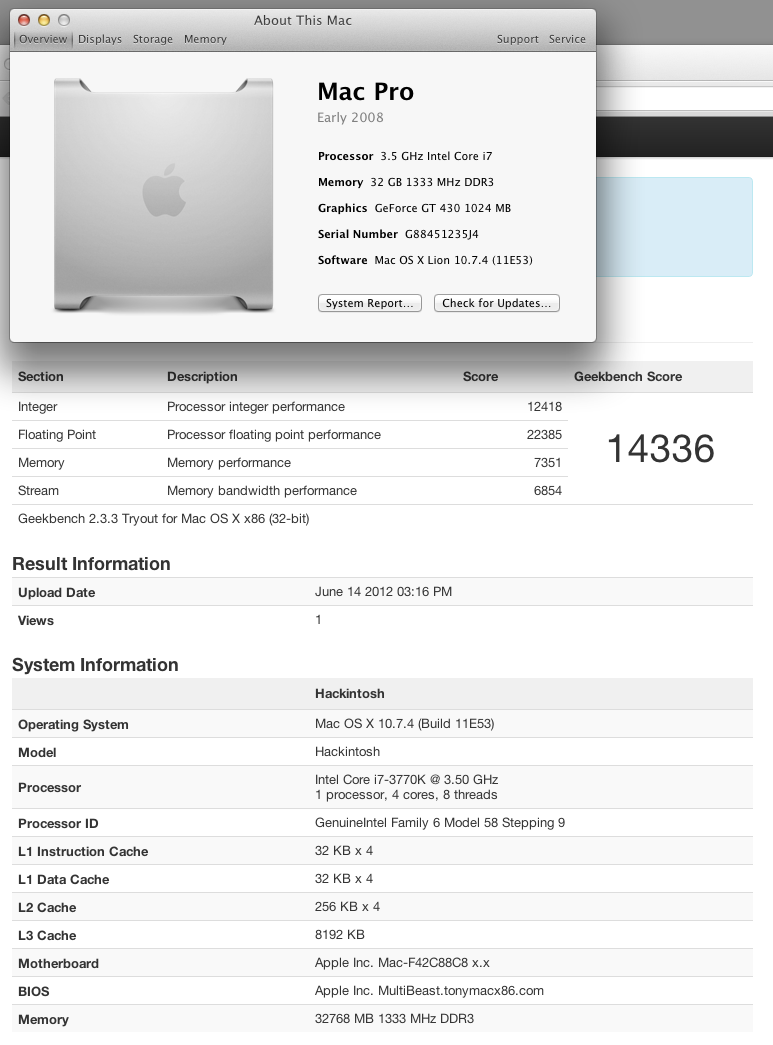 Last time we spoke a few weeks ago I had my new Hackintosh up and running, but only barely. The hardware was fine, but since Apple didn't yet support the new chips and features it was a pale shell of the machine it wanted to be. Hacked kernel, no USB3, no power management. Basically, not quite ready for prime time.
Well on Monday, Apple announced their first Ivy Bridge based Macs in the form of the updated portable line. Theoretically, this included all the files the hackintosh community needed to finally get things working for me, but you couldn't just grab the files off the drive of the new machines, apparently it doesn't quite work that way. However at about midnight on Monday, Apple released a big 1GB update file for the new Macbook Pro Retina, which included new versions of all the necessary files.  You couldn't just install the update, but people in the forums started pulling things like the new Mach Kernel and power management out and trying to install them to see what happened.
So I decided to throw caution to the wind and did some manual shenanigans to install Lion 10.7.4 with the latest Ivy supporting kernel and some other stuff and it worked well enough that I was about to write a little post giving my step-by-step process, gloating a little, and then recommending that you wait until the TonyMac guys get the final solutions out. Great plan, however while I'm writing, they did just that.
BridgeHelper 5 was just released and gives full ivy bridge support, with power management and USB3.  I plugged in my new USB3 drive dock and an ssd just to check and was getting 230MB/s reads (which is about the limit of the old Intel G2 drive I was using to test).
And perhaps best of all, the new machine sleeps and wakes up like baby, but without all the crying.  Seriously, it's nuts fast.  Even booting from the Apple logo to login is about 5 seconds. I'm currently overclocking it to about 4GHz, but I'm going to shoot for a bit more as time goes by and I feel more comfortable with it.
The only little problem I've got at the moment is that one of my case fans is running at full speed though I've asked the EFI to slow it down.  I've got to look into that, but really, can I complain? Finally got my Ivy Hack up and running.  Moved my data drives over a few minutes ago. Let's see how it feels in daily use.  More as I explore but follow me on twitter if you want to keep up, I'll post and forward more there for little things.
So, the day all us Apple nerds have been waiting for has come and gone, the 2012 WWDC keynote. And with it came a number of portable hardware updates and I thought I might as well throw my opinion into the ring.
Refreshed Airs and MacBook Pros
I'll admit, I was worried early on in the show. The updates to all of the current laptop models (minus the 17″ MBP which seems to have been 86ed) was underwhelming.  Sure, they upgraded the CPUs to Ivy Bridge, which also gave them better GPU and USB3 for free as part of the package. The price on the 13″ Air came down a bit and you can get them with 8GB of RAM which is nice. Same story with the revised MBPs; Ivy Bridge, USB3, faster video card. All were ripe for update, so not a surprise in the joint.  If this is all they had to show, that would be a problem.
MacBook Pro with Retina Display
Apple luckily had a trick up their sleeve with the 'new' Macbook Pro with Retina Display.  There were rumors of a high-dpi macbook. In fact some of the rumors had them across the whole portable line, but apparently Apple is going to take this transition more slowly than some people would have liked.
15″ 2880×1800 screen is the big draw. That's really high-res. Higher-res in fact than the 30″ NEC I use for my work. Big upgrade, huge. Apparently the screen is crazy thin as well. Overall thickness of the whole laptop is between the old Pros and the Air; so thin in fact that they had to replace the Magsafe connector with the new Magsafe 2 connector. Yes, I know there's a $10 adapter, but come on, they couldn't have had the thing be a couple millimeters taller and kept the single standard? YOUR standard? Whatever. That's Apple being Apple.
2 Thunderbolts but no Ethernet or Firewire. A Pro laptop without an Ethernet port? Oh you can buy a dongle for $30. Great, how about you throw that in the box for free since I'm spending at least $2200 on this thing. Speaking of the price, it's great as long as you stick with the low-end configuration. However, the second you move up to the faster CPU, which almost everyone who's in the market for a machine like this is going to do, you're looking at $2800.
So $2800 isn't so bad, right? Well, I haven't spent that much on a laptop since my original Titanium Powerbook, but we'll put that aside. Apparently, one thing they don't tell you is that the RAM is soldered onto the motherboard like on the Airs, so it's not upgradeable. So make sure you get all the memory you need when you buy it. That upgrade is another $200. So now we're at 3 grand before tax. And don't forget AppleCare, because otherwise you get the whopping 1 year warranty on that non-upgradeable 'Pro' machine you just bought. If you go all in with CPU, RAM, SSD, and AppleCare you're looking at $4100 pre tax. That's a lot of bank.
Is it a nice machine? I'm sure it is great, it better be for that kind of coin. And it's certainly got that screen which no one else at the moment can touch. I should really hold my tongue because I'm not a big fan of laptops overall. I think they're fine, I'm writing this on a 13″ Air right now, but only because I tend to write better on the couch. For real work, I need a bunch of storage and a bigger screen than 15″, even if those 15 inches are a glorious pixel-packed masterpiece. I'll admit that when I first heard the specs and saw the pictures I had a little tinge of lust, but then I looked at the pictures The Verge had put up and realized that it's still just a laptop. Without a big expensive Thunderbolt array and maxed-out specs, it's not enough to be my only machine, and it's just a little too big for me to carry without grumbling.
For a photographer who is editing on the road all the time, I think it would be a great solution IF you're willing to spend that kind of money. For me, it's not worth it. I know of a couple of wedding shooters who have already placed their orders. Personally, I'm going to stick with my desktop, 32GB of RAM, 8TB of storage, and a big screen. Even if it's not 221dpi, it's fine for now.
Updated Mac Pro
Speaking of desktops, they silently updated the Mac Pro as well, though "update" is the extremely kind way of putting it. Basically, they bumped the bottom rung CPU up a notch and rejiggered some of the prices for the dual socket models. No SandyBridge-E Xeon, no USB 3, no Thunderbolt, and still a two year-old 5770 GPU. Honestly, you might as well not have updated it at all. Calling this machine the Mac Pro in 2012 is just embarrassing.
The high-dpi screen on the new laptop also makes the current Cinema Displays look pretty silly at 2560×1440. I'd expect an update to that, too.
Odds and Ends
What's left? Well, there's a new Airport Express for $99 which is now dual-band and looks like a white Apple TV. Speaking of which, we heard nothing about the Apple TV- whether the fabled display, an updated box, or an App Store. New iPad case which also covers the back of the device. This one is actually somewhat interesting to me, I've looked for a case for my iPad 3, but holding the smart cover on with magnets seemed far too flimsy.
Overall I give it an 'eh'. Or rather, I gave it a 'WOW look at that laptop!' and then I came back to reality before they showed the price, you know, while they were showing the video of Jony Ive pontificating about how 'nothing ever conceived in the minds of man has ever been this amazing'. Keep using that line, Sir Ive.
Geoff Greene was one of the photographers at my lighting workshop a couple of weeks ago where he took a picture of our model Mary sitting on the bar in the back of the room.  A couple of lights, not a whole lot of set design as you can tell.  Anyway, Geoff sent over his version of the image along with some post-processing comments and I thought it would be interesting to show what two different photographers would do with the same RAW image from the camera. So I had his send it along and here are the results.
So here's the original exported straight from Lightroom: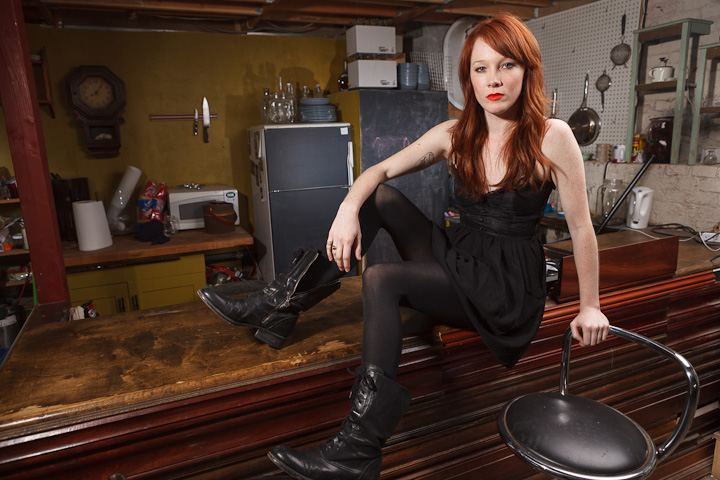 Then here's the version Geoff sent me. High-contrast, high saturation, and very 'fashion' to my eye: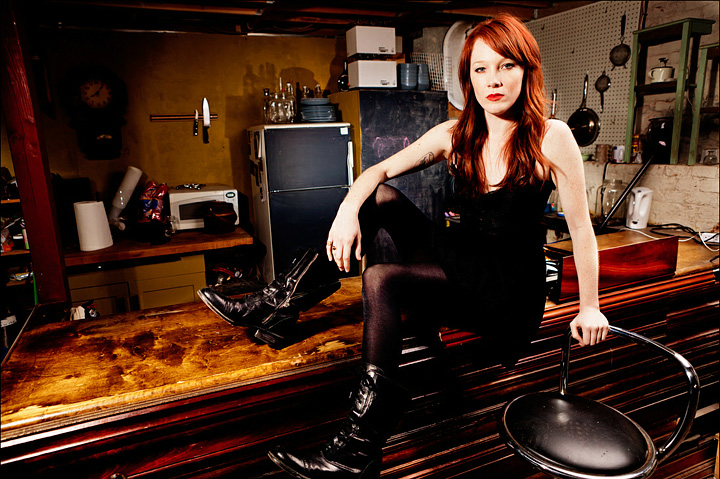 And finally, what I would have done with it if it were my picture. Not as drastic, closer to the original, but still trying to pull something more out of the RAW data by highlighting Mary a bit. In comparison, mine looks really boring and conservative.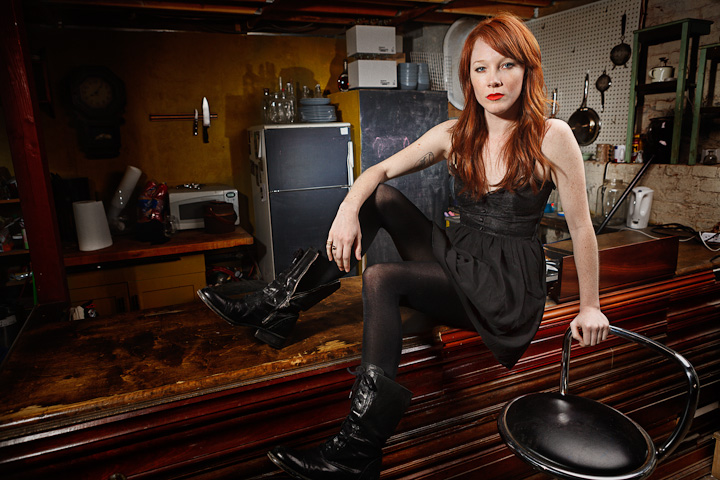 I'm sure if we gave it to 10 photographers we'd get 10 varying versions of the image.  Just goes to show how much post-processing is part of the process.  We may have gotten rid of the chemicals, but you're still not done when you press the shutter release.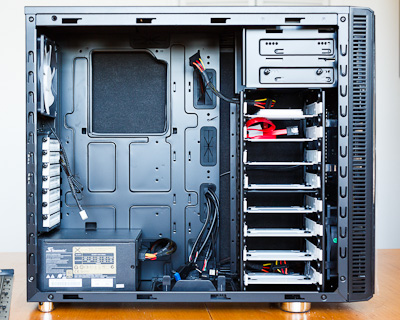 So here we are about a month after I first wrote about building a new Hackintosh workstation based upon Intel's new Ivy Bridge CPU and Z77 chipset. Well the motherboards and CPUs have now been released and I'm ordering the rest of my parts today so I thought I'd give you an update.
Up til now I've purcharsed the Fractal Design R3 case, 32GB of Mushkin Black RAM, a 240GB Intel 520 SSD, and a 750W Seasonic Power Supply. And here to the left what that looks like without the important parts. Not all that exciting, but pretty sexy, right?  Those are 8 sleds over on the right there for hard drives. Yum. Basically it's sitting there waiting for the real brains.
I'm not going to go through every detail again, just the stuff that's changed since the last writing, so go back and check that post out to get up to speed.
CPU  - Intel 3770K
As I had planned, I'm ordering the top-of-the-line unlocked CPU so I can do a little overclocking.  So far is seems like the reviews are good but not amazing. Mostly due to the fact that it doesn't seem like people can overclock Ivy Bridge quite as much as the last generation Sandy Bridge. People are not sure exactly as to why. Whether it has to do with the smaller die being a smaller area to try to pull heat from, or the new 3D transistors not being able to dissipate the heat, I'm not sure. The conclusion seems to be that you should clock it as high as possible on stock voltage, but don't bother trying to push higher by giving it more juice. That said, since you get about a 10% boost in performance at the same clock speed due to improvements they've made to the logic, I'm ok if I only get to 4.5GHz (which feels a little crazy just to type). Either way, it'll be a nice jump up from my 3.2GHz overclocked i7-920.
Motherboard – Gigabyte  GA-Z77X-UD5H
I know, long name right?  Well Gigabyte motherboards have always been a favorite for the Hackintosh community. They're well-built relatively inexpensive boards which tend to be easier for the nerd-kings to make work with Mac OS. This is their current top-of-the-line model but without the built in bluetooth and wifi which I don't need.  Better power systems that the lesser boards, and with built-in Firewire 400 I need for my external M-audio interface and Intel gigabit ethernet. Also, extra SATA ports for more hard drives and more USB3 connections. The only thing it doesn't have feature-wise is Thunderbolt. Apparently boards with built in Thunderbolt are coming next month, but I'm impatient, and honestly I don't know that I need it right now.  I use a DVI based display and prefer internal storage as a general rule. And if I need external, USB3 is plenty fast that a single drive can't saturate it and a hard drive dock costs $30 instead of $300.
Perhaps the best part about the new Gigabyte motherboards is that it seems that they're compatible with Mac OS power management out of the box. Which means no need for a DSDT file or anything.  Sleep and Wake and Speedstep just work. Which is very exciting. That's the one thing my currently Asus based machine doesn't do well. I tend to shutdown at night and restart in the morning.  It would be nice to be able to reliably put the machine to sleep.
Video – Zotac GT440 1GB
So it turns out that my genius plan of using the onboard Intel 4000 video was a fools errand.  Both because the performance is pretty 'eh' and also that the DVI output on most of the Z77 motherboards are not Dual-Link which means they can't push the full resolution of my 30″ NEC display.  There are adapters that will do it but they cost about $100, which is more than a nice upgraded GPU would be.  So in the end I'm ordering a discreet GPU to go with the new machine.  I can't stand the fan on the Gigabyte 5770 I've got now, so I'm grabbing the fastest fanless card for under $100 bucks. Which at the moment is the Zotac Nvidia Gt 440 with a gig of RAM.  Should be fine for my purposes and dead quiet which is the goal.
Storage
The only other place I've had thoughts is on the main spinning hard drive storage.  I mentioned last time that I was considering finding a RAID-5 card and using 3 drives as my main array. I've heard some horror stories and have yet to find an economical solution, so I think what I'm going to do is create a software RAID-0 across a couple of drives and have automated backups run every few hours in the background so I don't lose everything in case on of the drives goes down. That should give me a pretty immediate doubling of disk performance while loading and saving images. Still cooking on this one. If anyone has any advice, I'm all ears.
———
I think that's about it for now. More to come in a few days when I start to build this thing.