Here's the second in a series of posts explaining the how of the December Portrait Series.  If you missed the first 10, here's the post from yesterday.  Enjoy.
11:Evergreen
---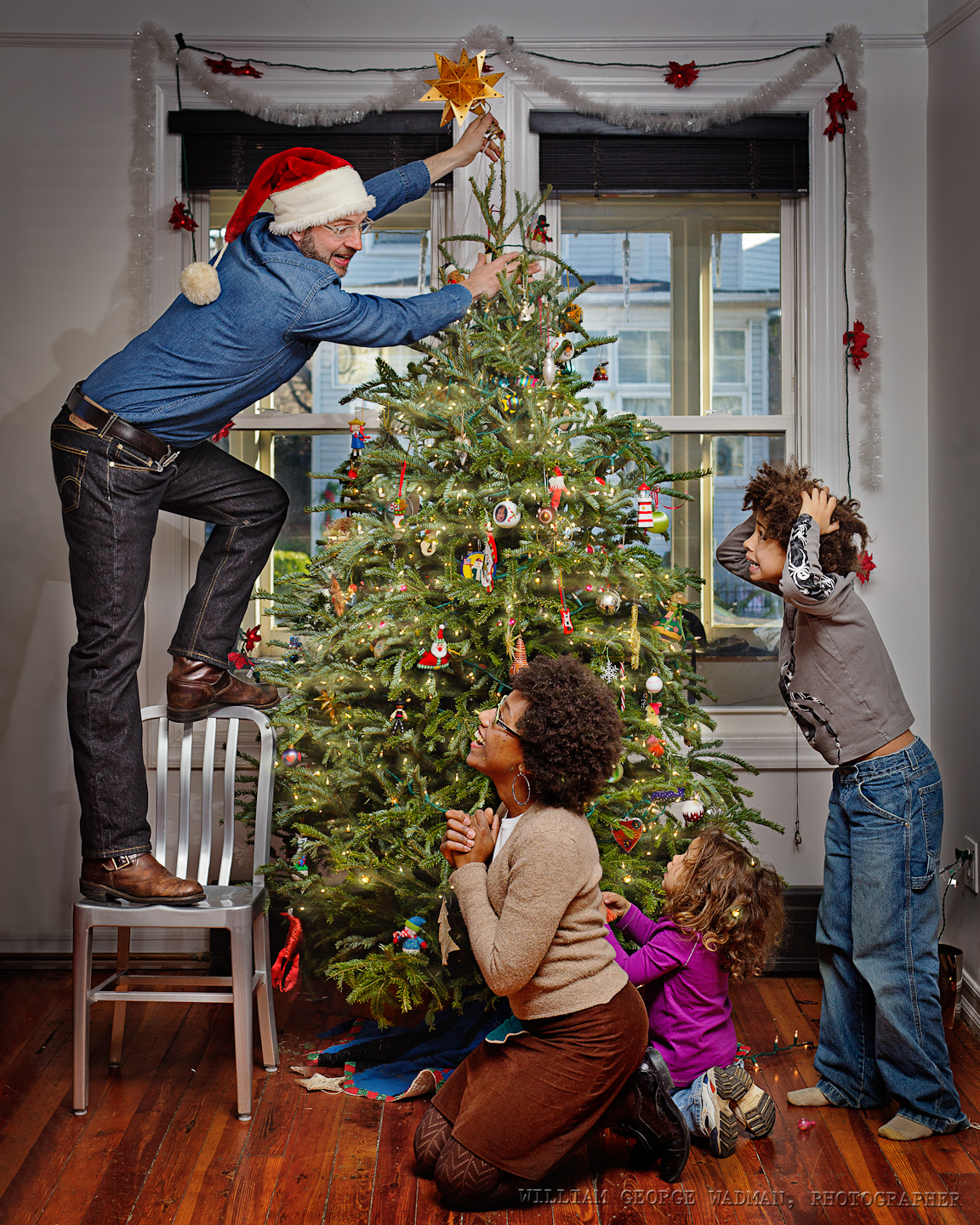 One speedlight with a 36″ shoot-through umbrella camera right.  I wanted to do it all in one shot, but with 4 people you often have to composite together the best of each.  For this one it was three pics.  The men in one and the girls from the other two.  The chaos of tree branches actually makes that composite a little more forgiving.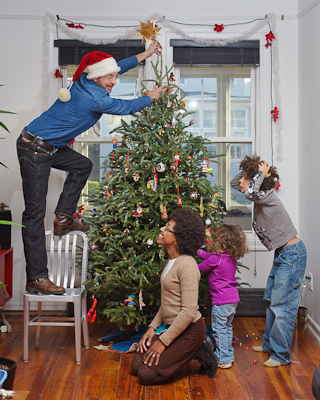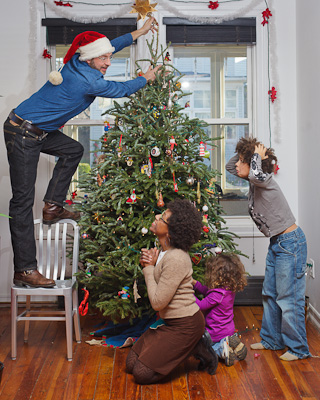 12: Multiplicity
---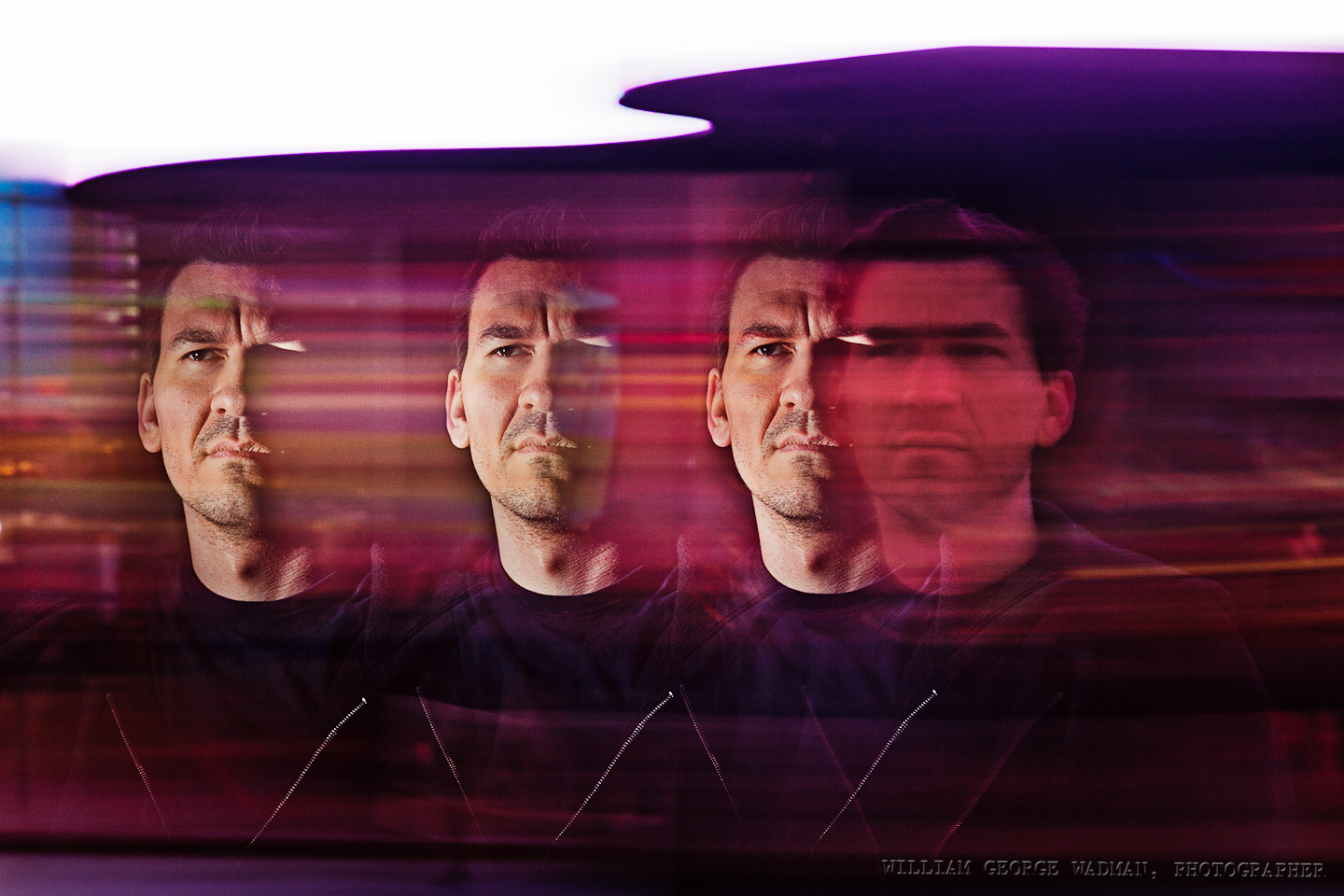 This shot is almost exactly how it looked in the camera so I didn't even bother showing you the before.  We shot in Times Square and during a long exposure (1.5 seconds as I recall) my assistant Dan popped the flash 3 times as I panned Pat's head across the frame.  Not really the kind of picture I'd normally take, but projects like this are for experimentation, so there's an experiment.
13: Cupcake
---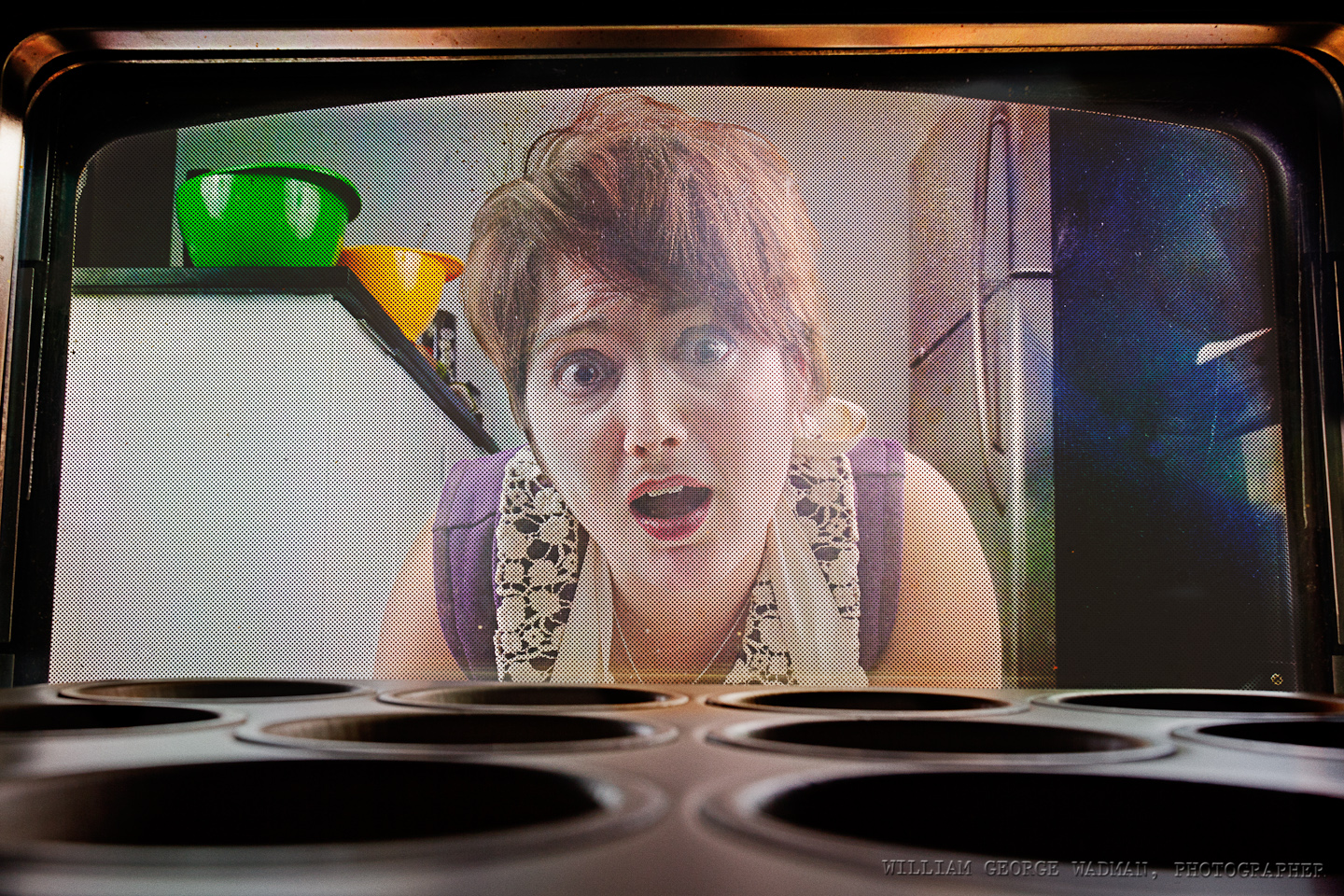 Two big soft sources, one on either side of her.  Camera actually in the oven on a timer.  Was a real pain in the neck to setup after each shot and required a lot of post to bring her our in the picture.  Not as successful as it could have been. I realized later that it would have been better if she also had her palms on the glass in panic, or one hand on the window and the other pulling the bottom hem of the apron up to her mouth or other such exaggerated reaction.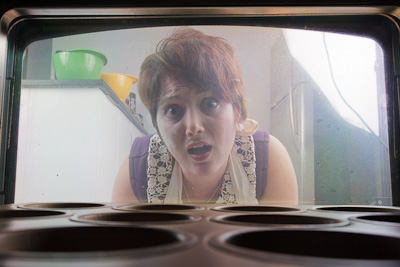 14: Newspaperman
---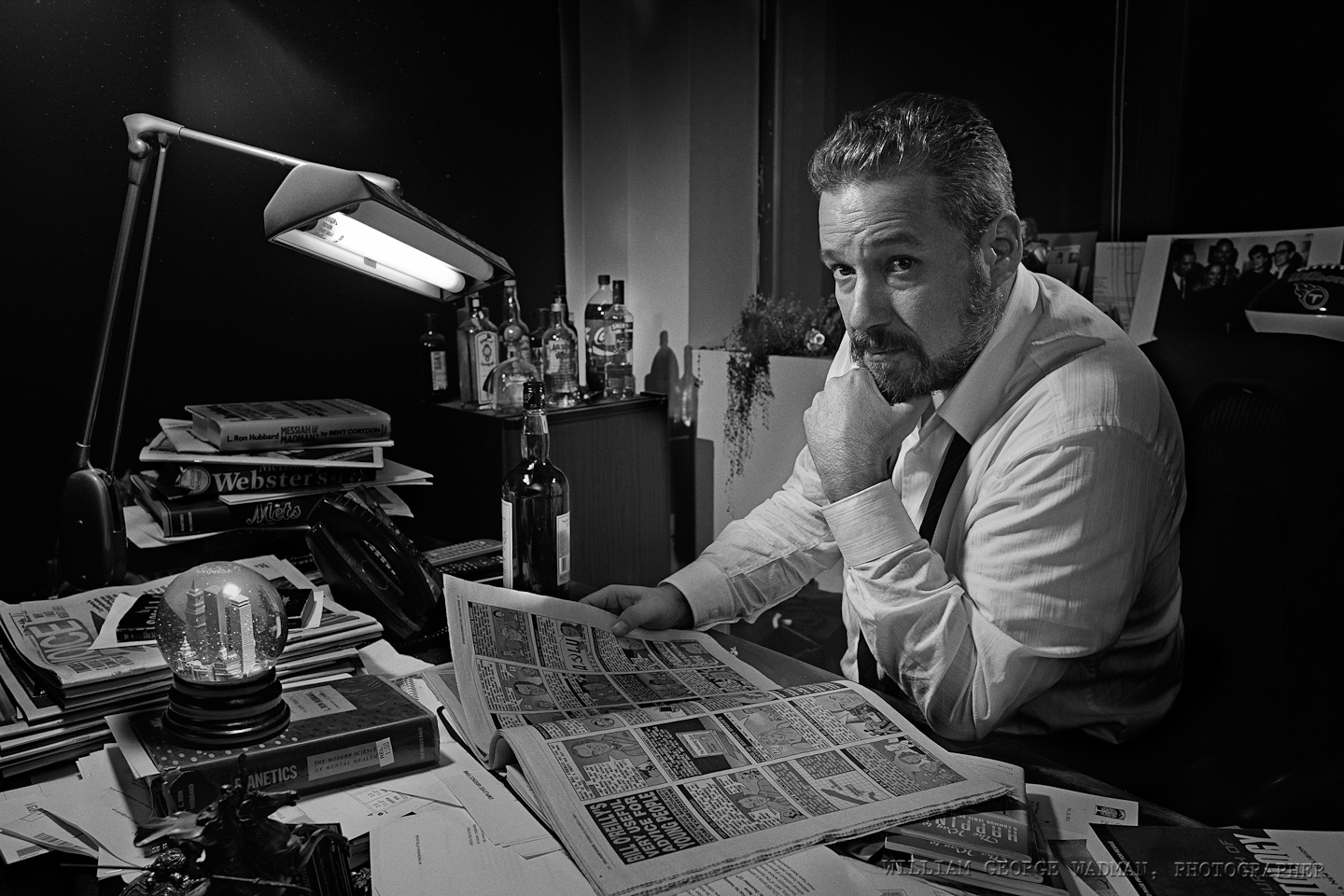 Tony Ortega is the Editor of The Village Voice and my idea was to make a homage to Charles Foster Kane complete with snow globe (which I shot and composited in separately). Four speedlights.  One with a 12″ softbox above and to the left to act as a keylight on his face. One bracketed to the window frame to the right as a rim light along his back and head. One snooted down aiming at the bar in the back. And one really low power on camera pointed to bounce off the wall behind me for fill and to trigger the rest of the lights with optical slaves.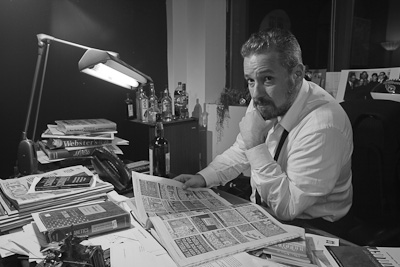 15: Twisted
---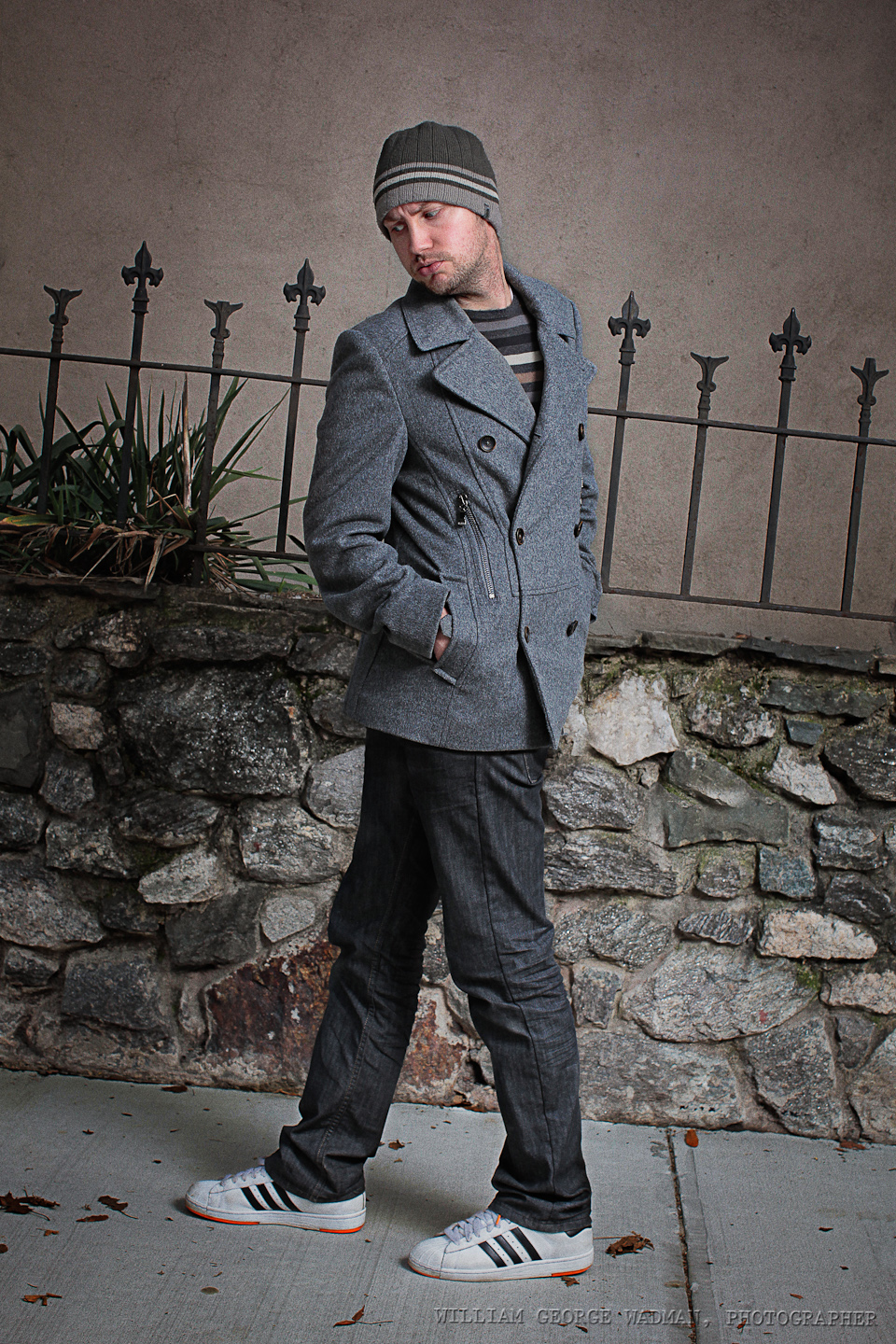 The original idea was to do something with refraction through the water in a fishtank, but it didn't gel, so Craig and I went outside and I shot him walking in both directions in order to composite the top and botton half of him together. Lit by a 46″ umbrella on a Profoto AcuteB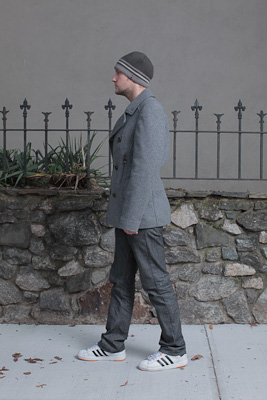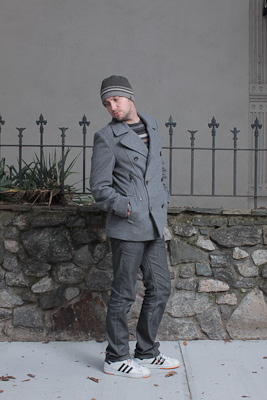 16: Reformation
---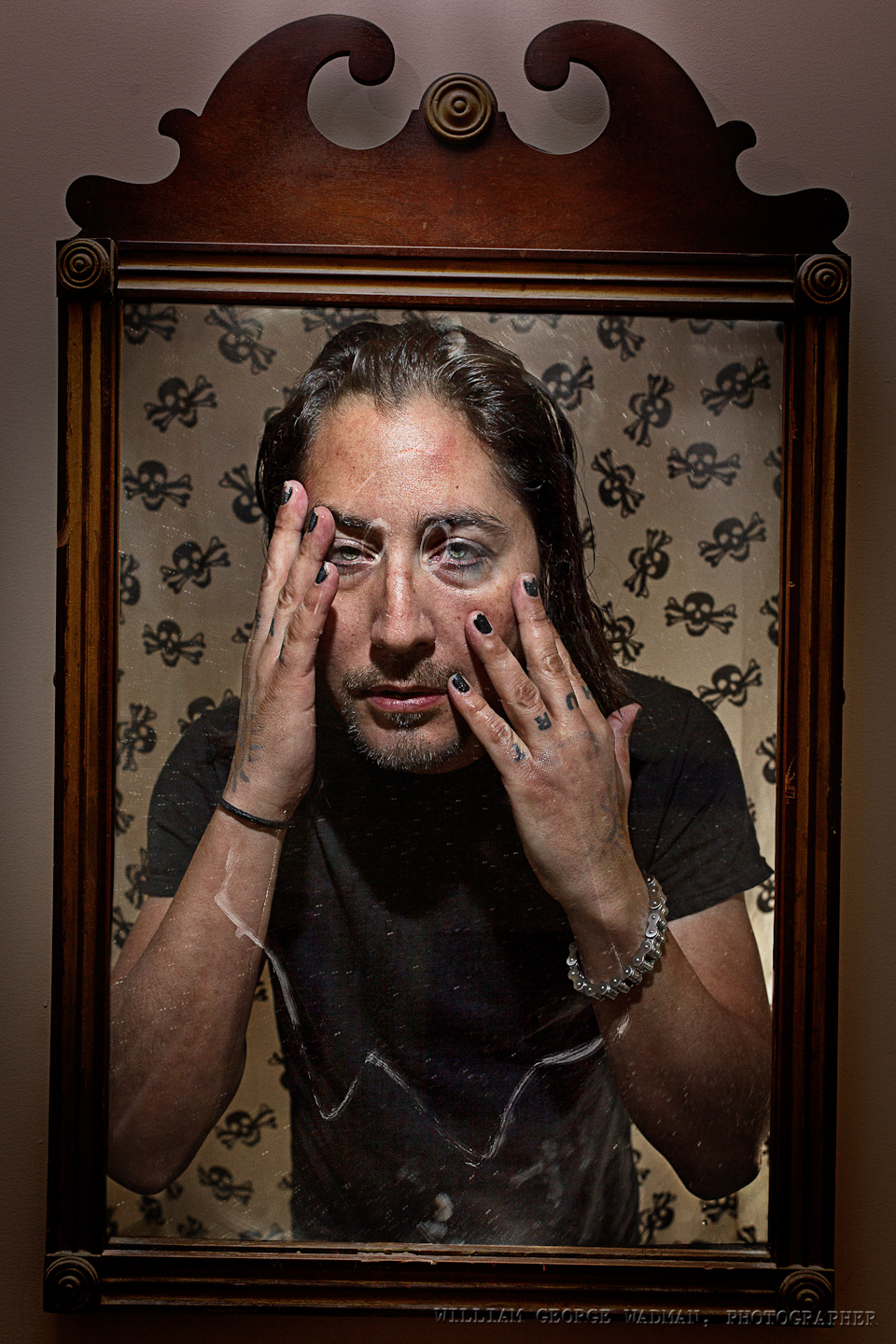 Neal is a recovering heroin addict who I shot for my drabbles series a few years ago. He is in a better place than he was before and I wanted to play with the idea of baptism and redemption. So I shot him in his bathroom with the crazy shower curtain. Two speedlights, one inside the tub and another handheld above with the diffuser panel down. Then in his hall an artist neighbor had drawn a ghost on the mirror, so I took some pictures and composited Neal into the mirror as if the camera was looking through his eyes.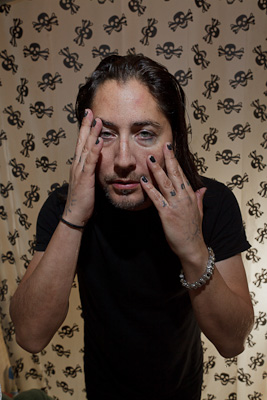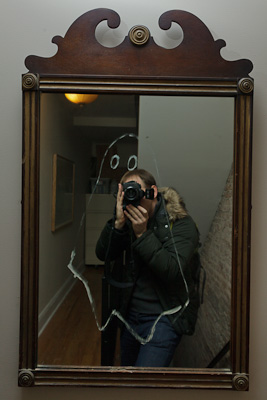 17: Princess
---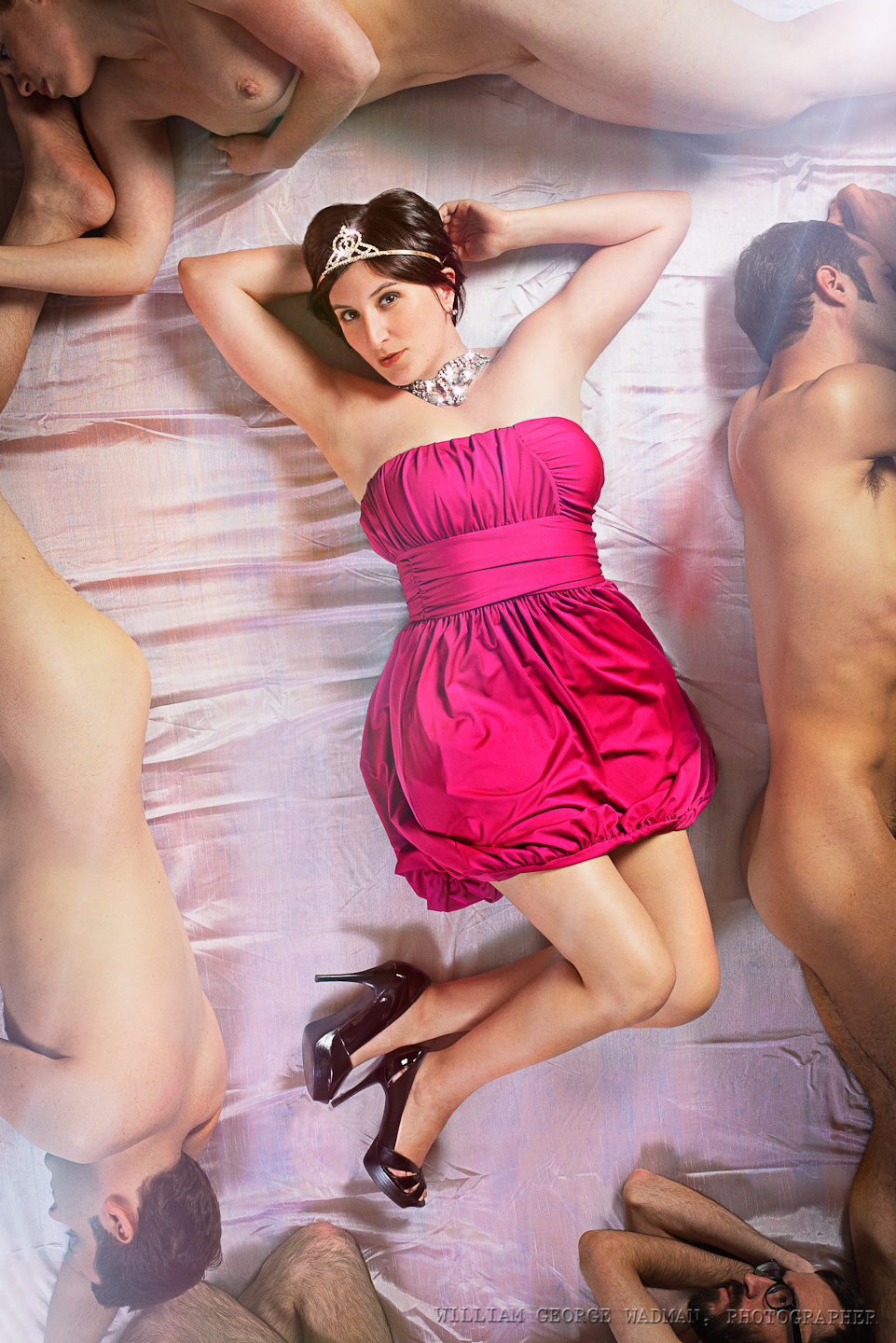 Lux is the editor of Fleshbot.com and she and I had talked a year ago about taking a picture like this. The original idea was to shoot her from above laying on a pile of writhing bodies, but it's surprisingly difficult to get that many volunteers and then also next to impossible to get her laying across them with any grace. So instead I used the naked bodies to frame the shot along the edges and made it less raunchy and more glamorous. Two big octabanks, one top right the other bottom left. The subjects were laying down on a slightly satiny curtain I picked up at the corner store on the way. Shot from above in a friends loft which was perfect for the concept.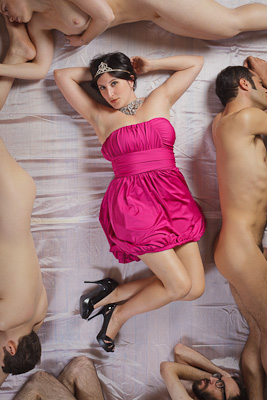 18: Rescue
---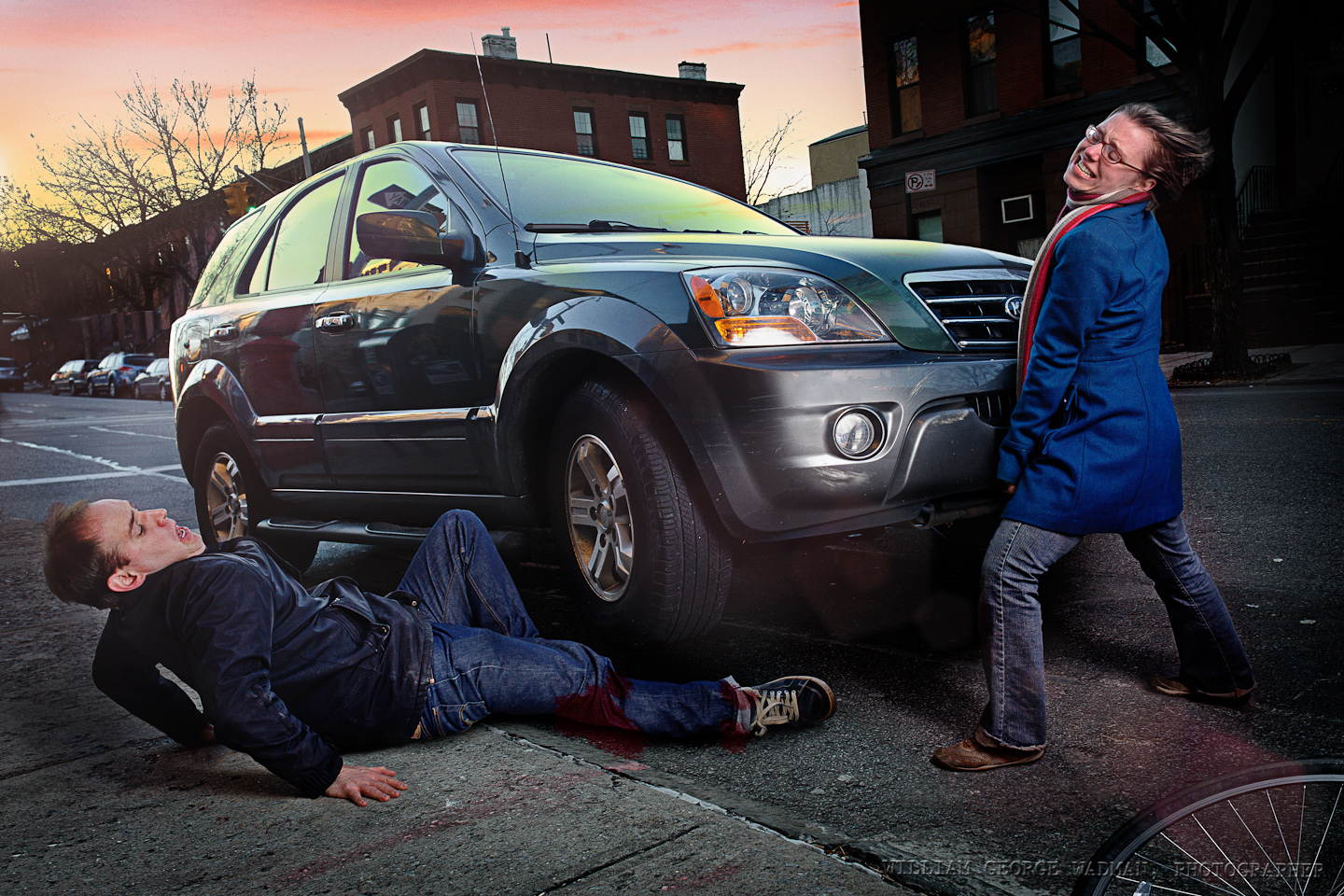 Emily, the girl lifting the car, is tiny so I though it would be fun to exaggerate the fact by having her doing something superhuman like lifting a car. I didn't have access to the car's jack and it was too cold out to get that involved anyway, so I instead composited a shot of her, one of the car shot at a lower angle so I could make it look lifted, and one of me on the ground as the victim of a horrible accident. The AcuteB shot through an umbrella to soften it was used in all three shots. Also comped in a prettier sunset.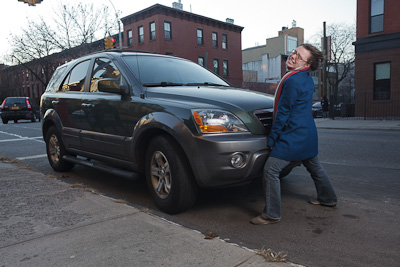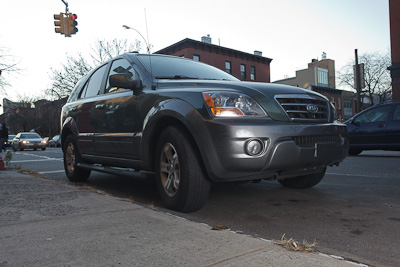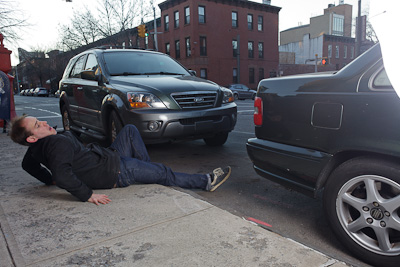 19: Keys
---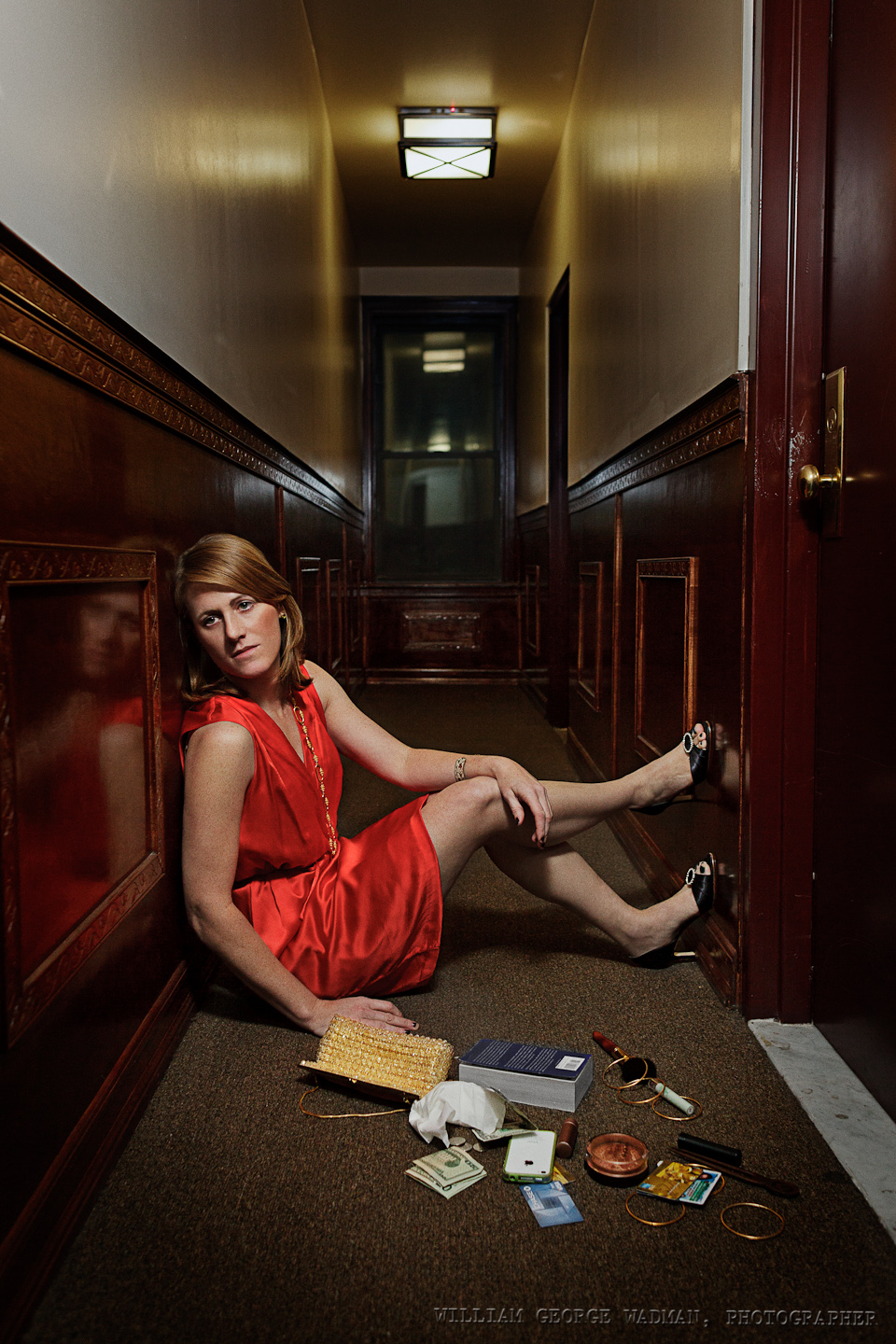 Relatively simple one. Shot Abby outside her apartment door, one speedlight from above with a green gel through a diffuser to match the fluorescent lighting in the hallway.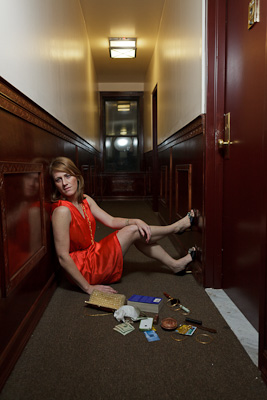 20: Kick
---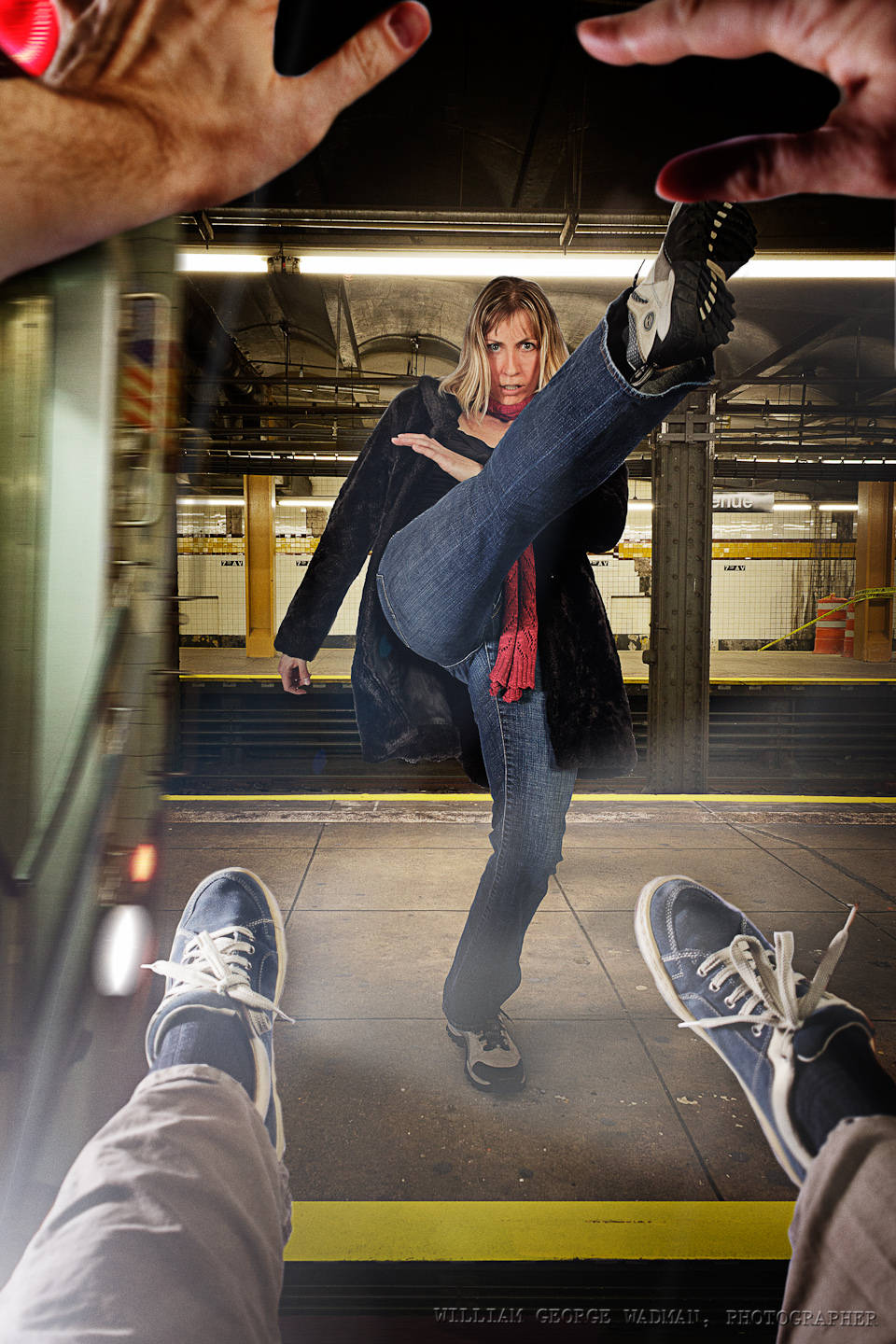 To have Aga kicking me onto the tracks we shot her in the studio kicking up a storm. Then took some pictures from my chest's perspective and leg/arms flying forward. Then we headed to the subway and shot the from of the train as well as some pictures of the platform that I could comp together into a space. Lighting in the studio was one strobe with just reflector camera left to mimic the headlight of the oncoming train and another strobe with umbrella above and camera right to fill in shadows and give overall illumination.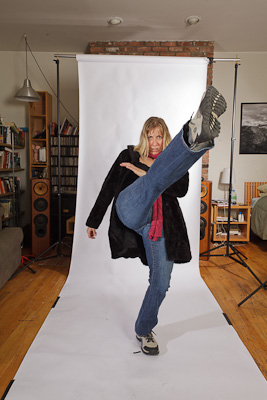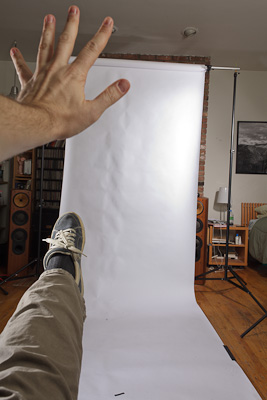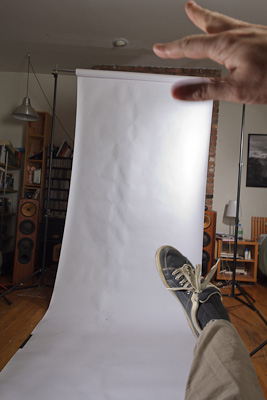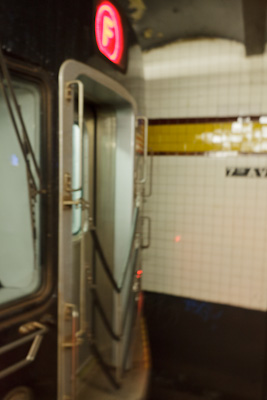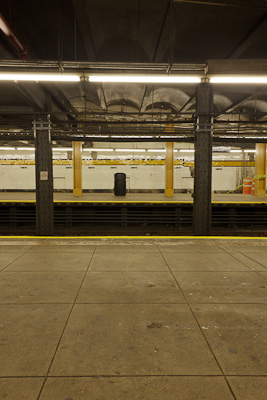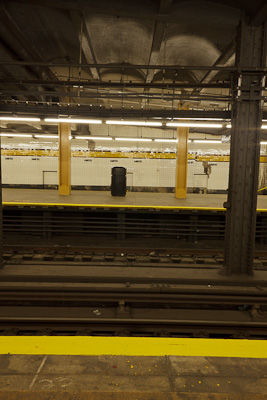 A few people have asked me how I pulled off a number of shots from my December Portrait series. It's my birthday today and therefore I'm in a good mood and have decided to write down some quick notes on each one and perhaps a small 'before' shot lest I forget the details. I'll do 10 a day over the next three days. Let's get started!
01: Birth
---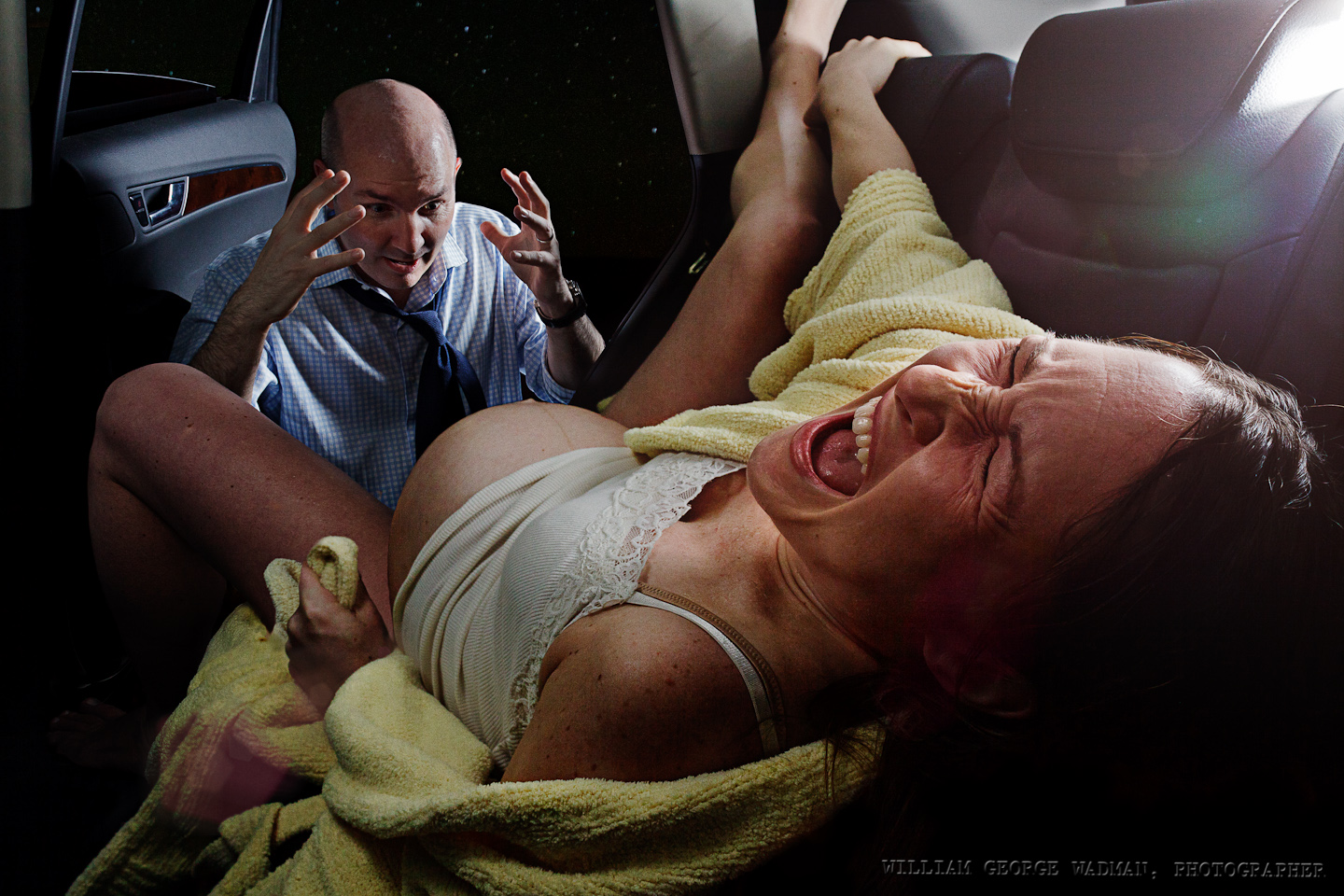 Subjects acting out the birth in the back of their SUV in a parking garage. Megan had the baby at a hospital a few days later, by the way, and both are healthy. 3 speedlights. One coming in the sunroof  through a diffuser to mimic the cars interior dome lighting. One on the platform camera right shooting through a crumpled up diffusion panel from a softlighter and one light with an umbrella to the right of James and a reflector to the left just out of shot. In the end I made a composite of the best shot of each of them.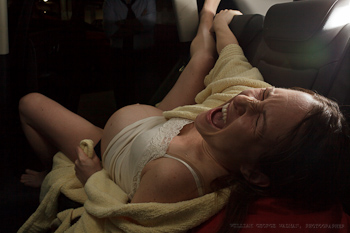 02: Horror
---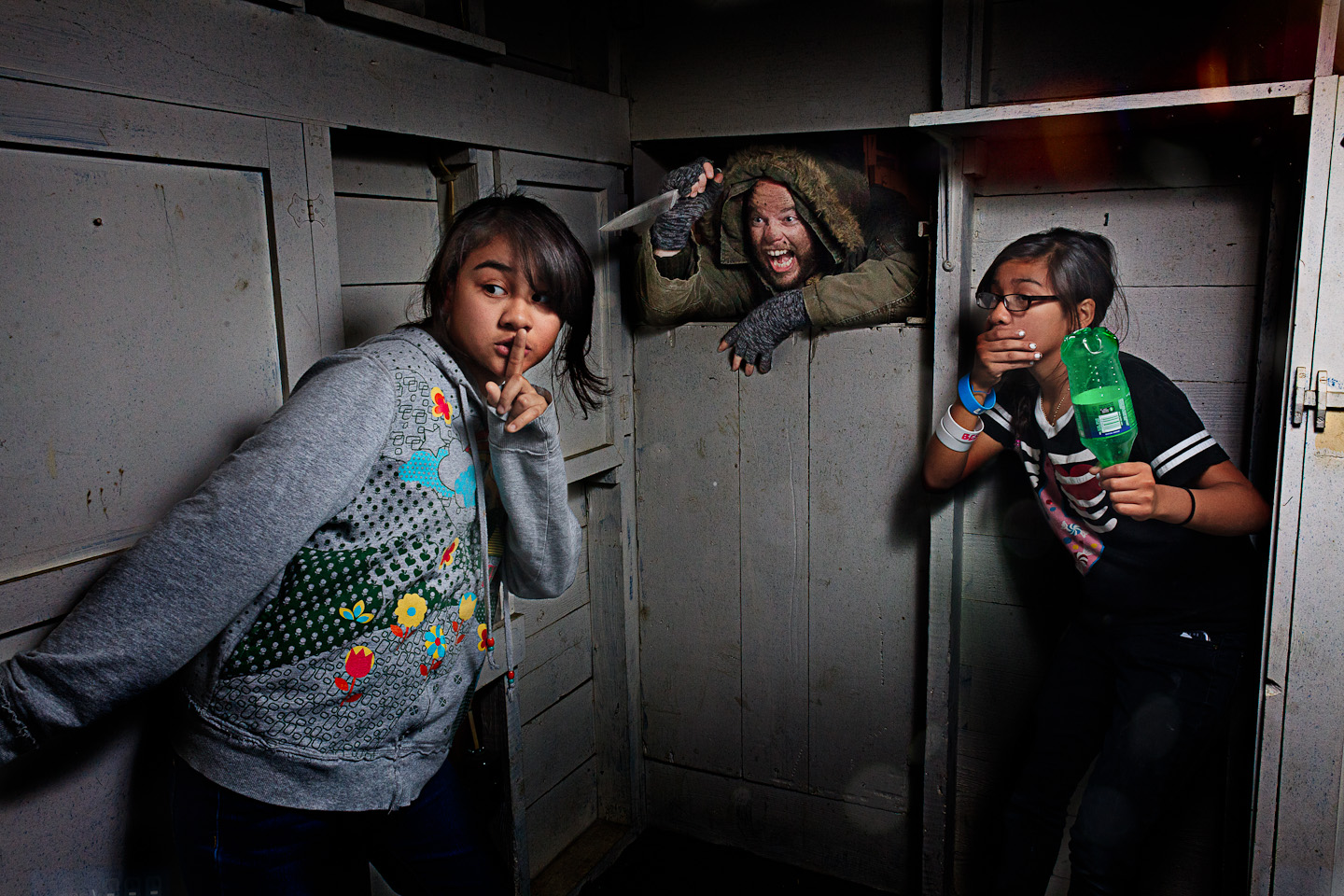 Basement of my sister's house in Arlington, VA. Friends daughters as the victims, my very accommodating brother-in-law with soot on his face. One speedlight bounced off the wall/ceiling corner camera right  as I recall.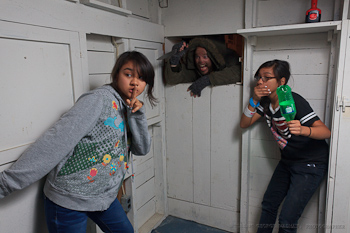 03: Bookin'
---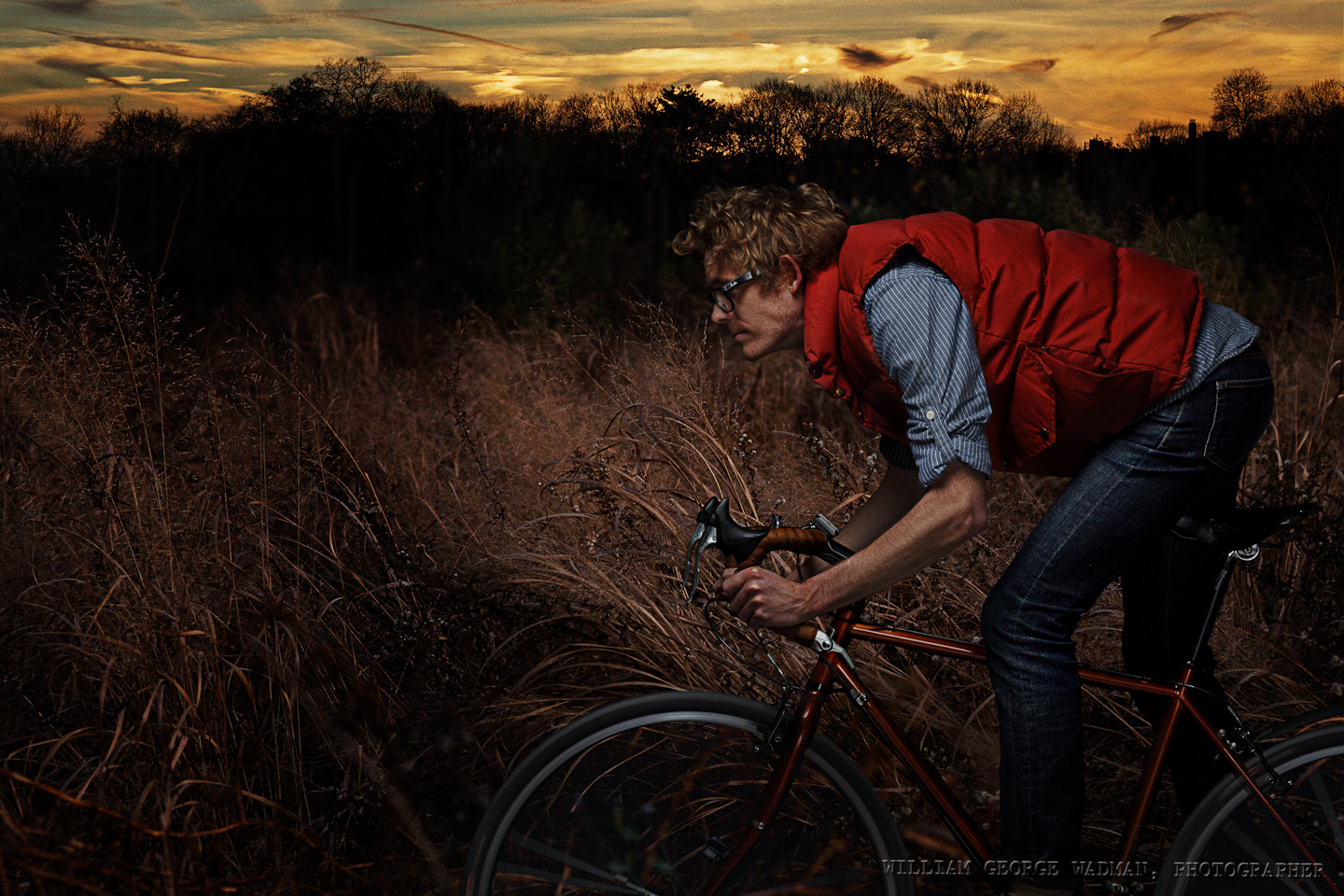 Gary shot in the studio. Two strobes, one softbox above and in front as well as a second umbrellaed strobe behind the camera at low power to fill in the shadows a little bit. Grain and trees/sunset were separate shots taken in Prospect Park earlier in the day.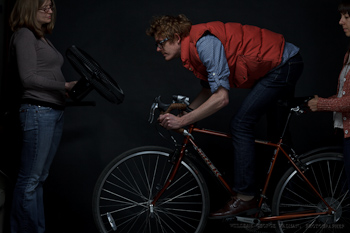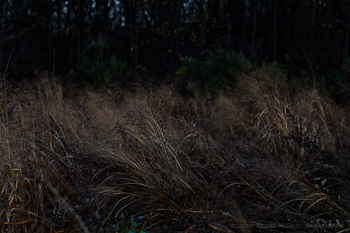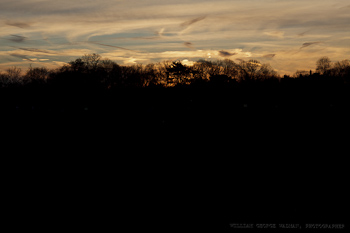 04: Theft
---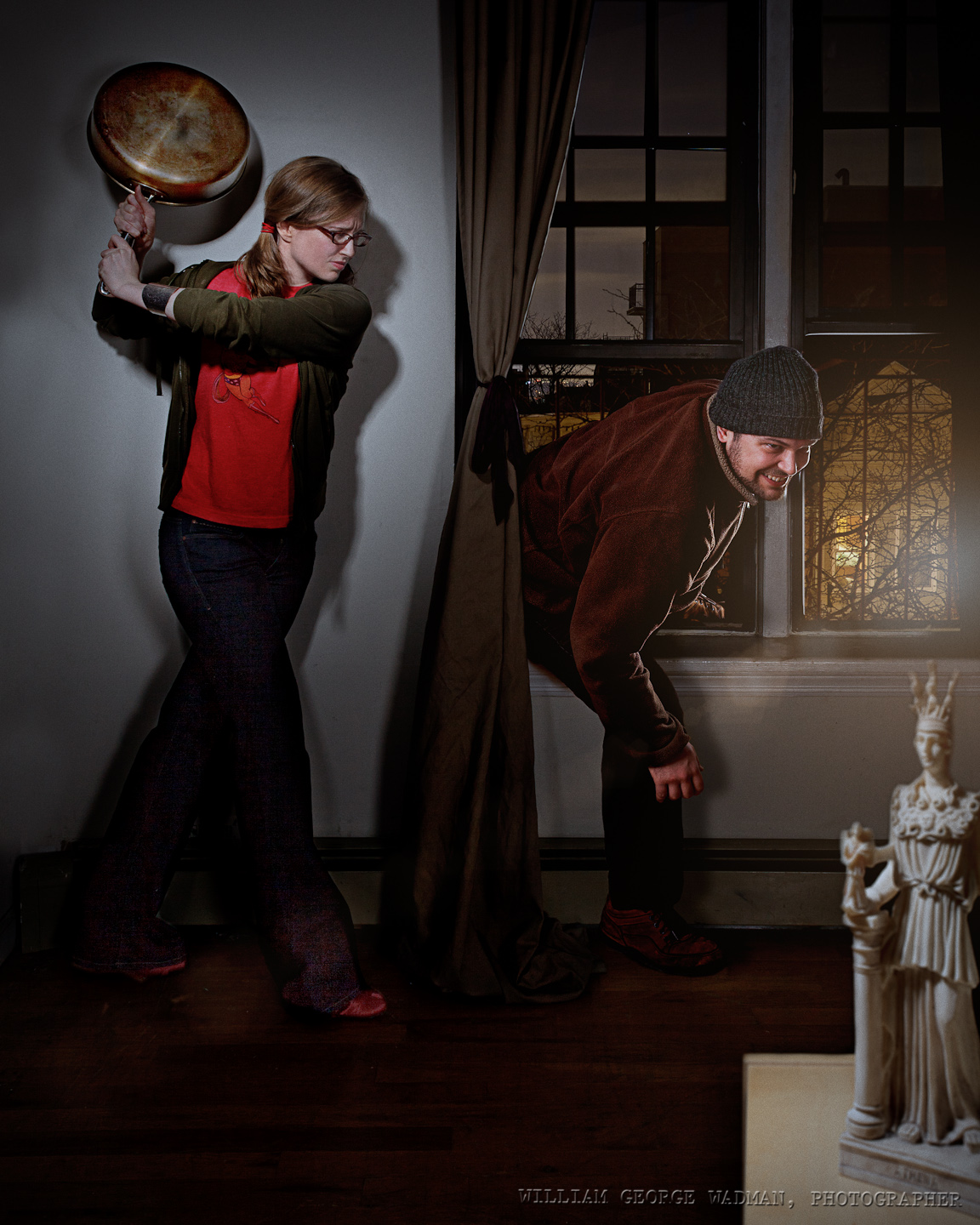 Composite of 3 separate shots. One of Heather and the pan shot with one hard strobe with grid and a reflector to fill.  Another of Derek climbing in the window with softboxed strobe out on the fire escape and same gridded strobe indoors. Final shot of statue on podium with overhead gridded spot.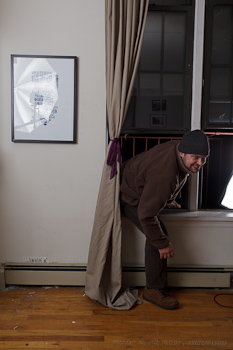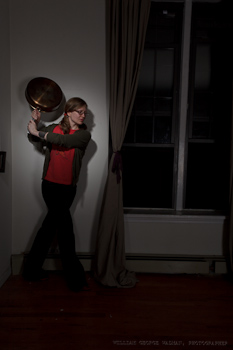 05: Mirror
---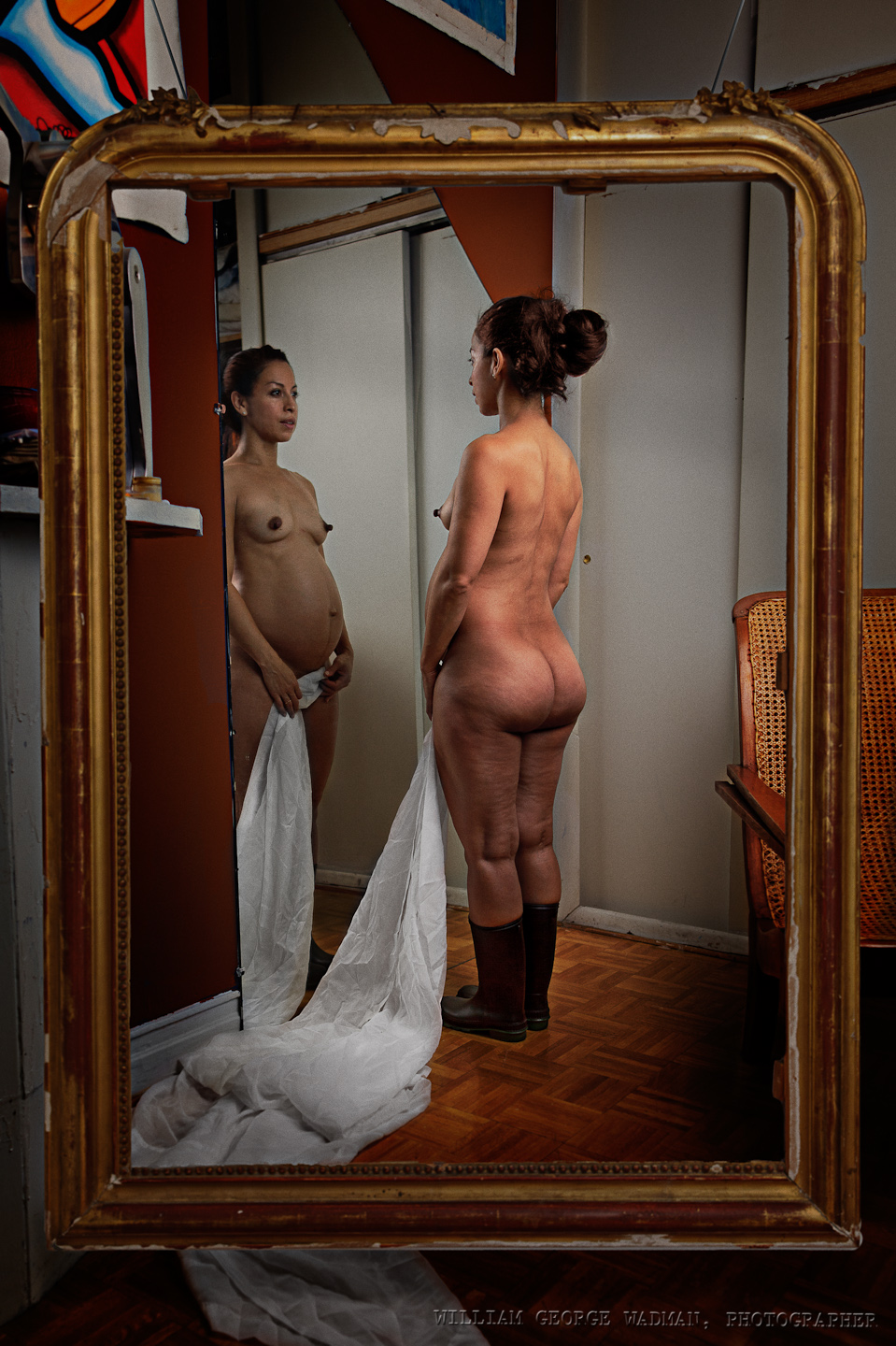 An attempt to play off a painting I saw at the Met. Main shot  of girl and mirror was shot with a 48″ octabox camera right facing her back. I then shot the frame in the adjacent room with the same setup shooting through the door to give enough light. Two shots composited.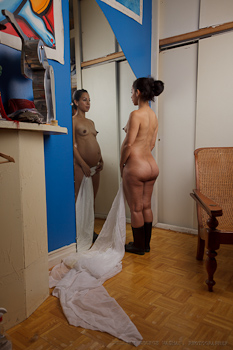 06: Party
---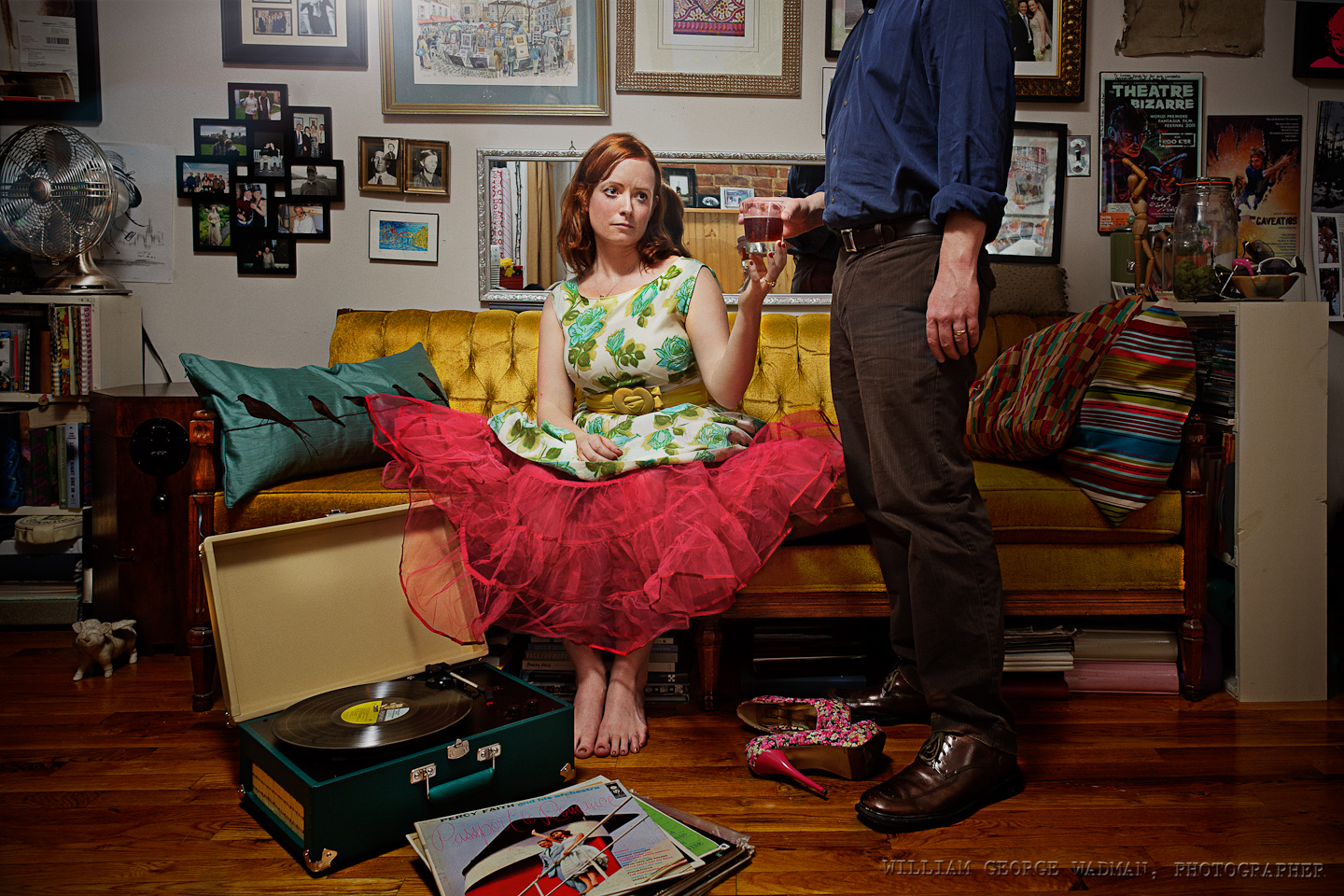 Nothing fancy on this one. Friend's apartment for dinner and that's what it looked like. Lindsay put on a party dress, Chris handed her a drink. Lit with a speedlight bounced off the ceiling camera left.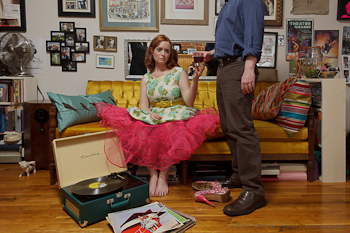 07: Dance
---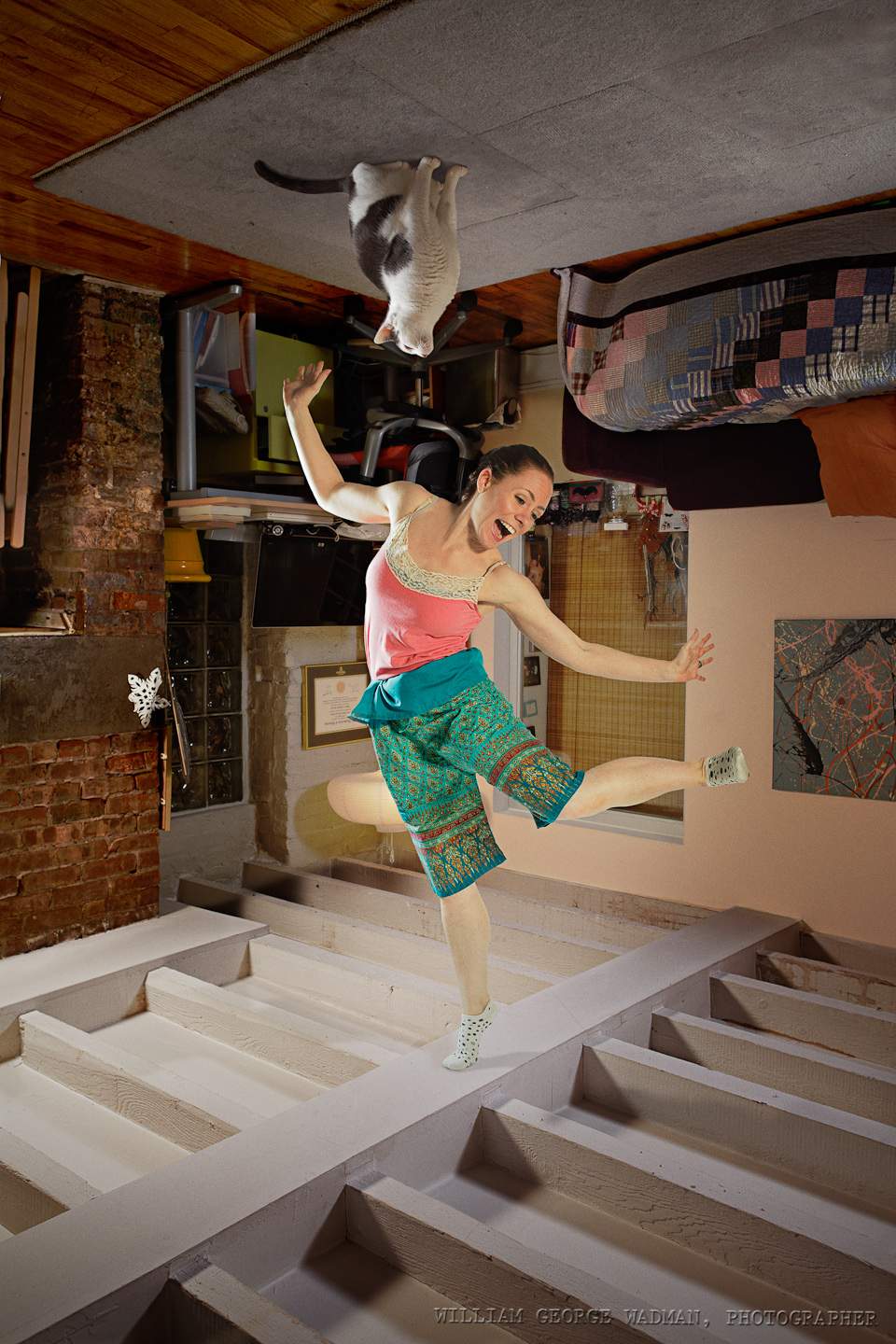 Two shot composite of course. Went to Eran's house and shot the 7′ tall room from 3.5′ up. Two speedlights in 16″ softboxes a couple feet off the floor aiming at the ceiling. Went back to my place and shot Eran dancing with the same lighting setup coming from above. Marmo was stuck to the ceiling with glue, just kidding.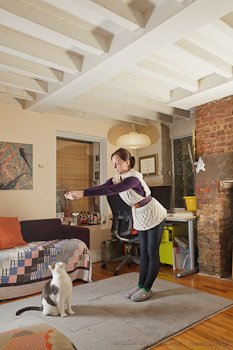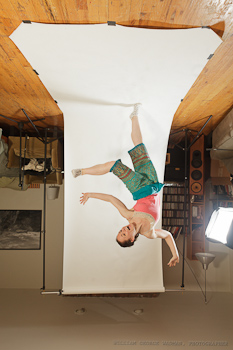 08: Capcom
---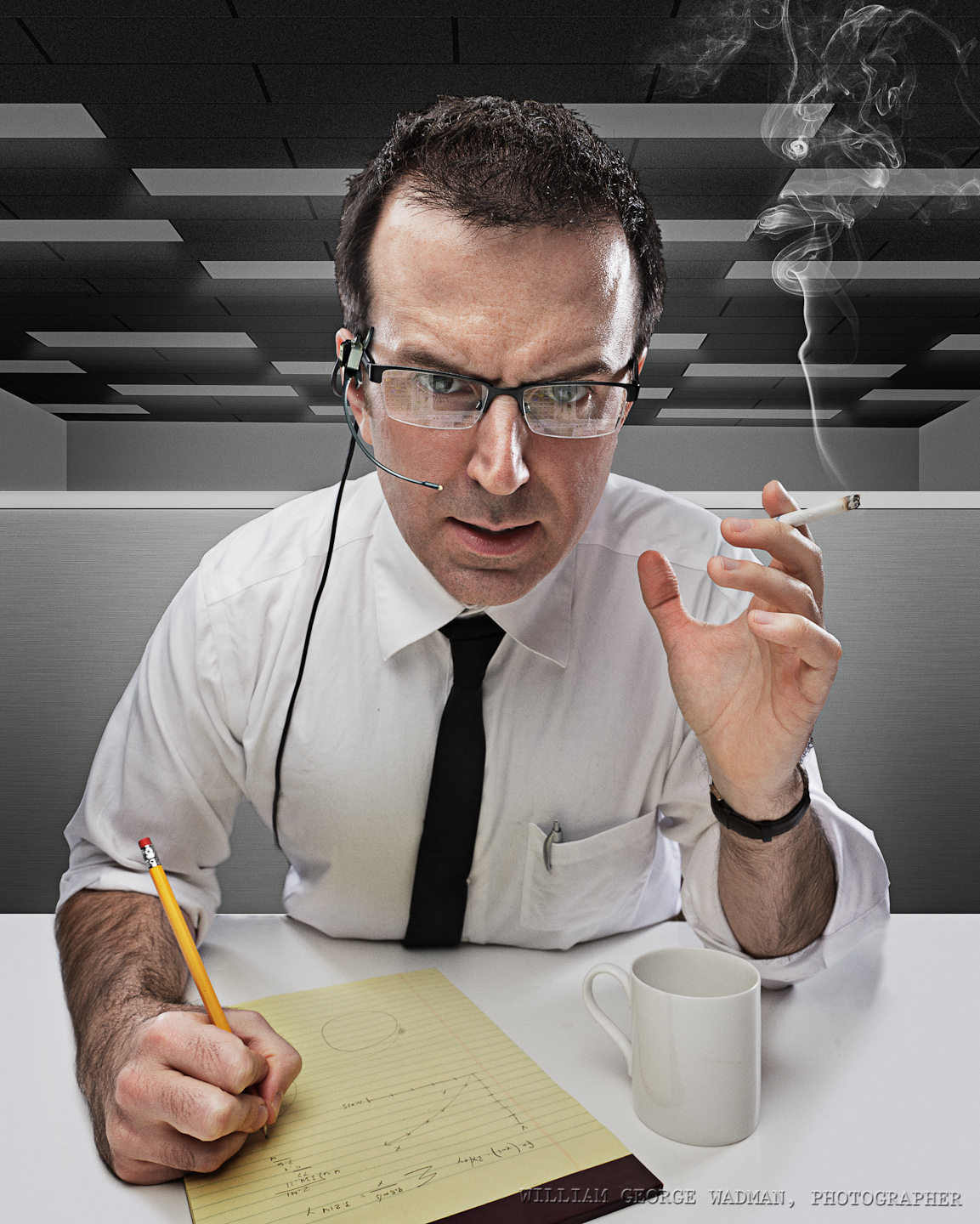 I wanted to recreate a scene from the Apollo era. Shot Chris on black background with overhead softbox and an umbrella on either side to give him some rim lighting. Shot smoking cigarette separately and brought it in in post. Headset comped in from archival photograph. Background desks and ceiling build from scratch in Photoshop.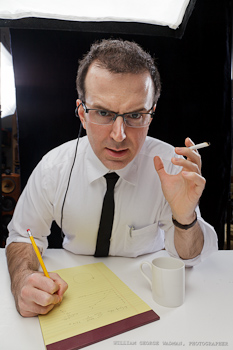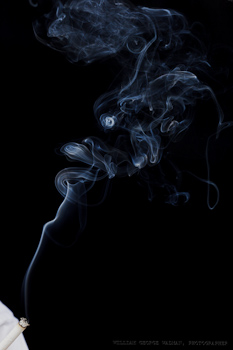 09:Vivisection
---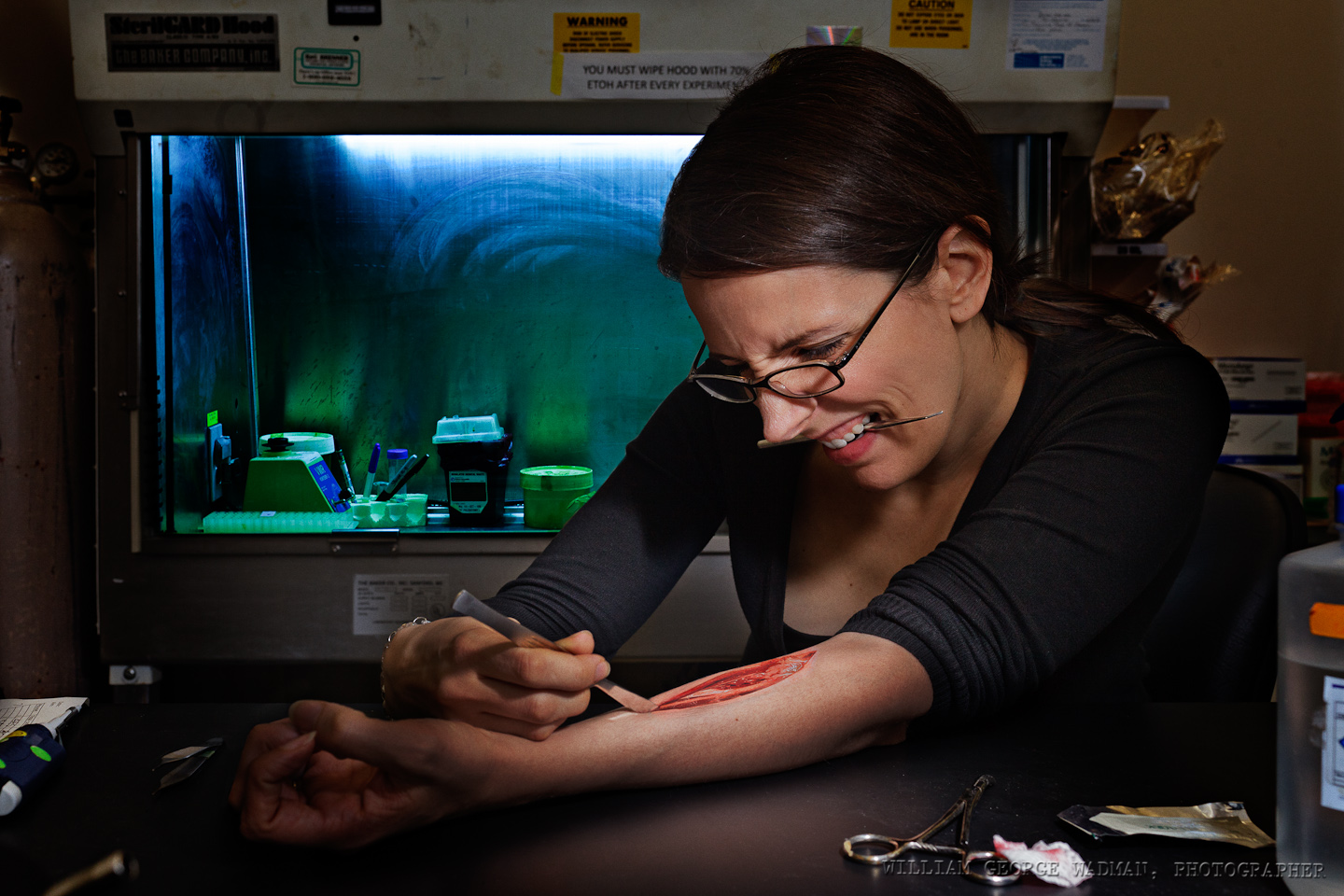 Brinkworth and I met up at the lab and shot her with a taped up scalpel and a little fake blood. One speedlight with diffuser panel held up camera right while I was  taking the pictures. Later comped in found public domain shot of dissected cadaver arm.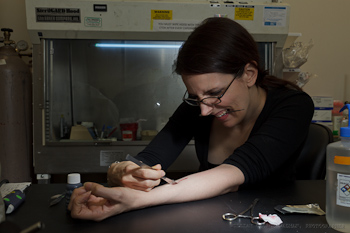 10: Bounce
---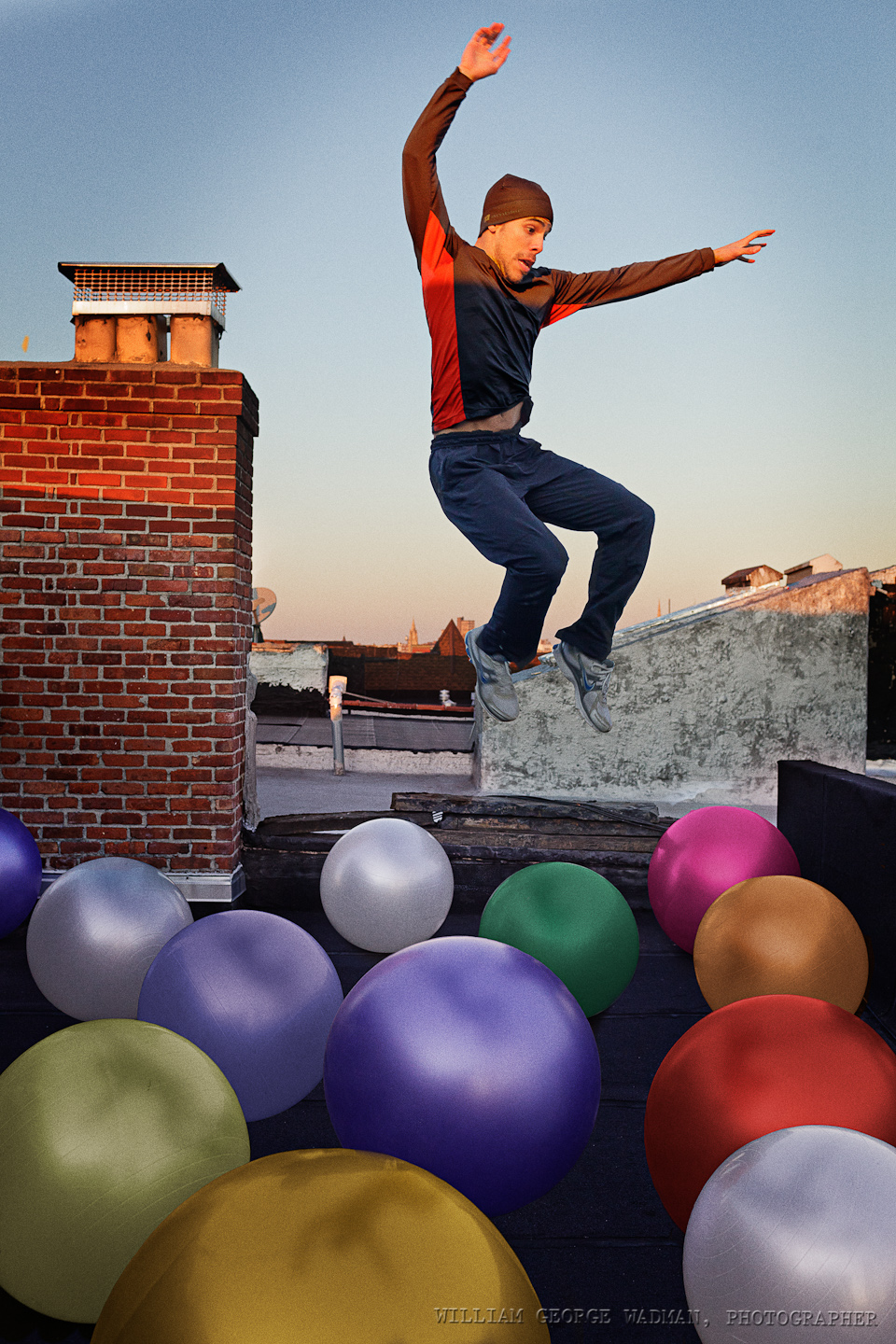 Shot Cisco on the roof jumping off of a chair. Then brought up a couple of yoga balls which we then moved around and shot in different locations. Composited and colored the balls in post. Added Cisco in bouncing about.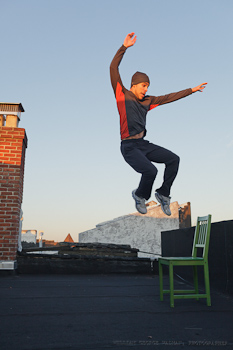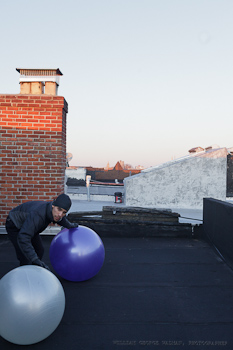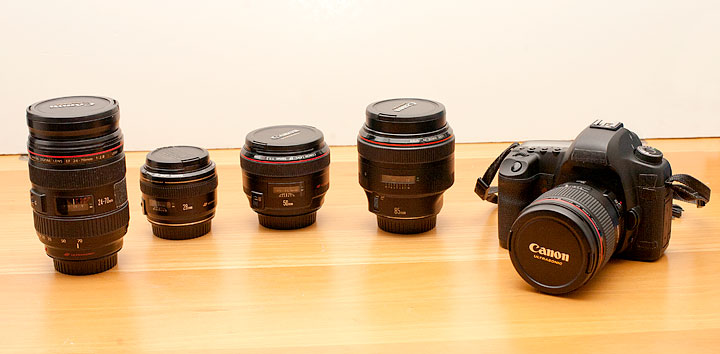 A lot of people ask me what gear I own and use. There's nothing particularly special about my setup. I'm a pretty straight ahead Canon user with mostly nice L glass. All of the pictures I make could be made with similar stuff from other companies, but I figured I'd make a list anyway for those of you who don't believe me and want what I've got.
Each link points to the product on Amazon. So if you plan on purchasing this stuff, please do it through my links so I can buy a can of Coca Cola. Thanks.
Digital
Canon 5D Mark III Body
Lenses
Canon 28mm f/1.8
Canon 35mm f/1.4L
Canon 50mm f/1.2L
Canon 50mm f/1.4
Canon 85mm f/1.2L
Canon 24-105 f/4L Zoom
Computer Gear
NEC 30″ Monitor with Spectraview Calibrator
Wacom Intuos Tablet
Apple 13″ Macbook Air 
Kensington Expert Mouse
Western Digital Green 2TB Internal Hard Drives
Software
Adobe Photoshop CS5
Adobe Lightroom 4
Lights
5 in 1 Reflector/Diffuser
Canon 580 EX II Speedlite
Alien Bees B400
Alien Bees B800
White Lightning x3200
Profoto AcuteB Pack and Head
Photek Softighters – all 3 sizes
Avenger A420 Stand with D600 Boom
Film Cameras
Leica M4 with 50mm f/2 Summicron
Hasselblad 500cm
Cambo 45NX 4×5″ Large Format
Preferred Films
Kodak Portra 160, 400, 800 NC
Kodak E100 chome
Fuji Provia
Ilford 3200 b/w
For those of us not sold on the promise of touch computing, the method with which we move the cursor around the screen tends to be a very personal thing.
It all started with the mouse of course. Invented way back Douglas Engelbart at Stanford way back in the early 1960′s, but as really probably used first as we know it by the team at Xerox Parc who made it work using a ball and not direct rollers.  By the way, the mouse was so named because the first one had the wire coming out the back which made it look like an actual mouse with it's tail coming out. And of course the Apple Mac (and Lisa before it) brought all this into the mainstream.
I think my first Windows computer with a serial mouse was probably in 1990 or so?  I had used an original Mac and some PCs with other windowing environments like GEM desktop (I think that's what it was called), but Windows 3 was the first version I actually played with on my own machine. First it was two button, then the cheap mice they gave you with computers became 3 button, all of them connected to a 9 pin serial port (COM2/COM3 represent!) on the back of the computer.  The one everyone wanted to use was the two-button Microsoft mouse though. It was well built, fit your hand (assuming you were right-handed) and seemed to track smoother than the crappy ones. Which brings me to cleaning. Since these mice had a ball which rolled on the surface, all this gunk got rolled up into the mouse mechanism and much of it attached itself to the rollers inside.  These got nasty and you often had to open it up, pull the ball out, and clean them with some alcohol. At least that's what the nerdy people did. I never liked mice however.  You had to have room on your desk to use them, they didn't track reliably and I found that constantly using the same pointer finger to click gave me repetitive stress problems in my hand and arm.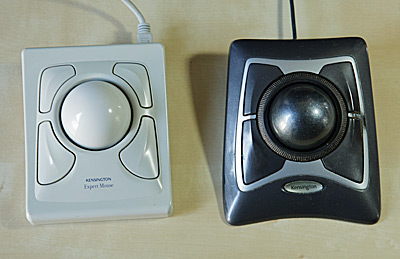 This lasted up until college and I think until I met Keenan. Keenan was a webmaster at a big software company at the time and I'm pretty sure he's the one that introduced me to the trackball. And not just any old trackball like ones with a ball the size of a golfball which you're supposed to use with your thumb. Yuck, those are terrible.  No, I mean the big Kensington Expert Mouse. You've got 4 buttons, a big ass ball which apparently fit a standard size billiard ball if you were so inclined. You control the ball itself with your fingers, slowly rolling over it from the top, or flicking and catching it to zoom across the screen. Then your thumb was naturally sitting right on top of the normal left click mouse button. They weren't cheap, I think $100 or so, but they were build like tanks and totally worth it ergonomically.  To my mind, they were ergonomic before it was a computer users buzzword. And the design is still a classic to my eye. My first begat a new one when USB came around, then a dead-end model which was wireless and had extra buttons up and a scroll wheel up top. The main problem with them was the same as with ball mice, the rollers got crudded up with dirt, requiring cleaning every few days if you were sensitive to such things. Finally about 5 years or so they released the latest revision which was optical and black, and added a scroll ring around the main ball. Almost perfect.  This has been my main input device on my desktop since it's release.  The paint on the main button is getting a little worn away and you do occasionally have to pop the ball out and blow dust off the sensors, but it's nothing like trying to keep physical contacts clean. Plus it's quieter.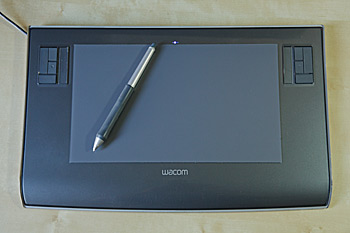 Before I got serious about photography, I used the trackball when retouching.  I had played with some cheap tablets from the late 90′s on, but it never felt quite right to me.  I was never a trained artist after all, so it's not like I was yearning to hold a pen. That changed back in 2006 or so when I got a small 4×5″ Wacom tablet and forced myself to use it when in Photoshop. Once you've gotten used to the control of a pen, trying to do retouching with anything else is like drawing while wearing boxing gloves.  When I moved to a 24″ and then a 30″ screen, I upgraded to the Intuos3 6×11 widescreen tablet and have used that ever since. For the kind of work I do, the size and shape of the tablet is related to the size and shape of the screen. In the normal 1:1 mode I use, the tablet is mapped to the screen, so the upper left corner of the tablet is mapped to the upper left corner of the screen, etc. So moving around to a specific part of the screen becomes second nature. This is unlike a trackpad where you might have to push-push-push in one direction to get the cursor across the screen. Because of this 1:1 relationship, if you've got a 4×3 ratio screen you want a more square tablet and if you use a widescreen display like most of us do now, you'll want a wide tablet, so that an inch in the vertical gives the same amount of movement on the screen as an inch in the horizontal. The one problem with doing this 1:1 stuff is that if you use multiple monitors, you're kinda screwed.  This is actually one of the reasons I use a single big screen. Sure, you can make it so that it maps across two screens, but then moving the pen a half an inch to the right will move the cursor on the screen the same amount as moving the pen an inch up or down. And that kind of inconsistency is a deal breaker for me and totally defeats the purposes of the tablet in my opinion.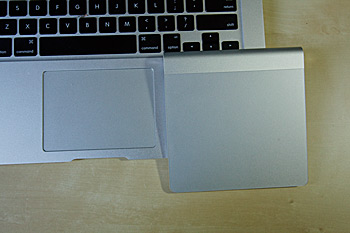 This brings us to trackpads, which is the reason that I originally started to write this post. Trackpads, especially the newer glass ones on the apple laptops, are great on a laptop.  They integrate into the design, they work smoothly, and they allow advanced gesture support. All perfect for the laptop.  I found myself using the four finger up and down expose gestures on my new 13″ Air so much that I started thinking about the Magic Trackpad for my desktop. That way I could unify the way I scroll pages, reduce wire clutter, and look cool to boot. As luck would have it, B&H had them for $10 less than the Apple store and I had a $50 gift card lying around since last Christmas, so I figured "why not?"  Well I'll tell you why not. The Reality-Distortion-Field strikes again! I don't like it on the desktop at all. Sure the gestures are all there, but I find moving the cursor around on such a big screen to be very inefficient and hard on my hands. On a laptop, you can rest your hand along the side of the trackpad and edge of the case and flick around with your pointer finger, but on the magic trackpad, it's raised on the back edge to be more like the wireless keyboard (and to house the batteries) which means your wrist either has to over-extend upward if you want to rest it on the desk, or you have to levitate your hand above the trackpad the whole time. Thumbs down.  I think it's great on a laptop, but it just feels silly on a desktop. Plus I think it's a tad to big.  Maybe it's a great option for the Apple TV or something, but it's not going to replace my Expert Mouse.
I'm sure there are lots of people out there who may disagree with me on this one.  My friend Michael swears by his which is why I got one in the first place, but to me it's just RSI waiting to happen.
Ever try to wrangle 7 pretty young actresses in black dresses?  It's not as easy as you would think, and I'm sure you weren't thinking it was going to be easy. A couple of weeks ago I wrote a blog post about an upcoming shoot to take the promo shot for season 3 of a web series series run by my friend Amy Kersten which is due out in January. Well, here are the results of that shoot. My friend Claude was nice enough to do some BTS filming so you could get an idea of the scene. Be sure to play it at 720p to see some detail.
For those interested in the technical aspects, I shot with my 5D2 tethered to Lightroom on my new 13″ Air (which worked great by the way, far better than my old unibody Macbook) with a 50mm lens. In the end, I changed the lighting setup I was considering in pre-production and swapped out the ring light for a beauty dish up front.  A softbox up a bit on each side were used to get some separation from the background.
This might be a good time to mention something about white, black, and grey seamless paper backgrounds.  Under the right conditions any one of these could show up on camera as white, black, grey. It's all a matter of distance. Distances between the subject and the background and the lights.  In my particular situation I would have liked to have more distance between the group of girls and the background, but the laws of physics and the long dimension of my space thwarted my efforts. So in the end what I got was less of a black background than I had intended, which is some ways was a blessing in disguise because it made it easier to cut them out of the background when I decided to do a composite.  More on that in a bit.
So I was all set up when they arrived. The best girl ever brought some wine and cheese to feed and relax them while they got ready.  All told, that part of the evening was a fine flurry of people. As a general rule I prefer one-on-one shoots, no let me rephrase that. Shoots with one person are a completely different animal than shoots with a number of people.  The latter is more an exercise in shepherding than interaction. Or at least it can feel that way, so I had brought along a couple of people to assist me in the endeavor.  Once we figured out the best way to group the girls so that we could see all their faces, Cisco spun them up in caution tape and we were ready to get started.
I shot about 150 pictures in total.  Not many at all compared to some shoots like this, but ultimately we were looking for one main shot, so as long as I had the raw material to work with, I was good to go.
When we were all through I sent Amy about 50 pictures to look through.  The final shot choice was pretty painless, she chose one shot of all 7 and wanted two specific faces replaced from a couple of consecutive shots. Easy stuff because the shots were almost identical anyway. With that bit of trickery done I started on the post production.  When we began I had vague ideas of just having them look like they were caught in a police searchlight on a black background. Thus shooting them on black paper as opposed to something on white or similar light color like we used for last year's pin-up shots. So here is what I started with: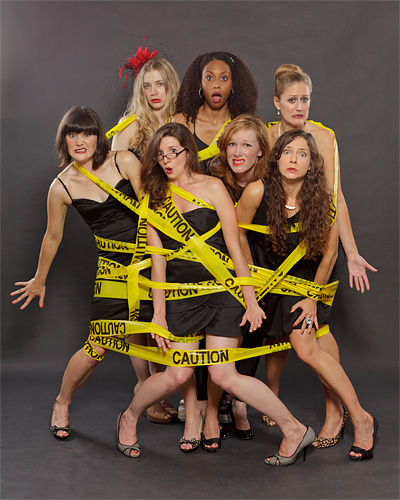 First step was to clean-up any rogue hairs and odd dress straps and misguided makeup. Then I went in and darkened the background a bit to make them pop and used some masked curve adjustment layers to add local contrast.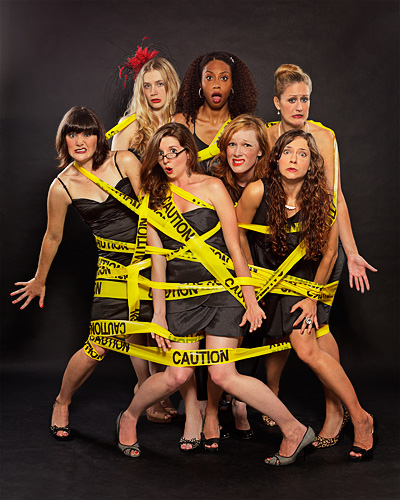 Not bad, in fact it's just fine, but it didn't get me excited. I wouldn't put this version up as the main image in my portfolio. Too dark, too unfinished. I had to do better. So then I was thinking, 'what if they were out late one night, had a few too many and were discovered like that in an alley or on the street?' So I went out and took some images to use as a plate background.  There is an empty store a couple blocks away that looked perfect for this concept, so I came home with this: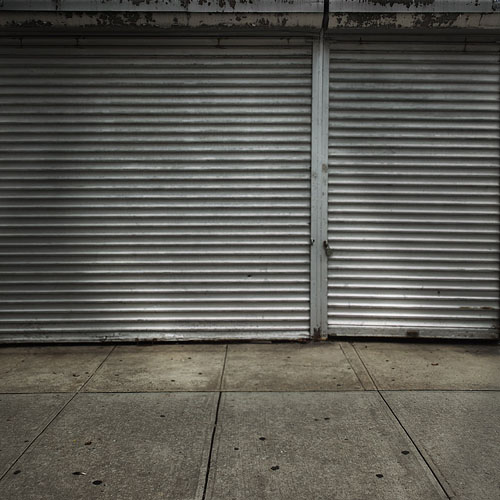 Yes, it was shot in the daytime, but it was hazy that day so the sun wasn't harsh coming straight down. In fact there are some advantages, because at night you've got the scene lit by a number of different street and store lights, all at different color temperatures with lots of spectrum peaks. Not what you want if you're looking for a plate that you can mold into your vision. Darkening is easy, and if you do it right you don't notice that it wasn't shot at night anyhow. Hollywood does this all the time by the way, when they shoot night scenes in the daytime with the exposure way stopped down. Once you get the background in the ballpark, the next stop is to drop the girls in from the original picture and do a really rough mask just to see if the overall perspective and sizes are right. I took care in shooting the door a bit wider (35mm lens) than the girls themselves, so that the field of view would be bigger and everything would match up more easily. Because I filled the frame i both shots to give me as many pixels as possible, I had to grow the background a bit to make the ladies fit into the background properly. Alternatively, I could have made the girls smaller, but why throw out pixels from the most important part of the shot? The background being a little soft only makes them stand out anyway. In the end the full size image is 4500px square, which is way bigger than it'll ever be used.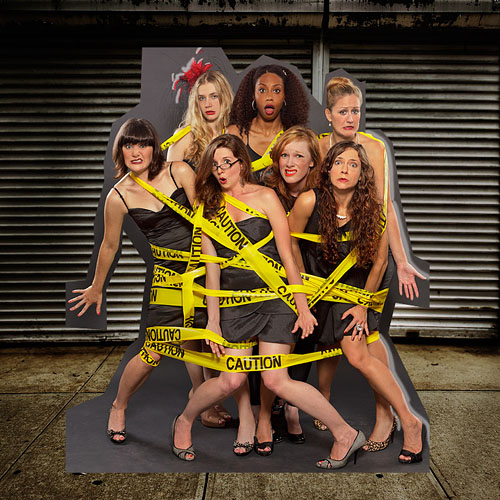 The next step is the tedious part: masking. Ugh.  I've tried every plugin and technique I can find to do this kind of work. Some of them look like magic in the demos, but at 100% I always find myself going in and working over the final line with a paintbrush anyway, so now I just mask the whole thing manually. In a situation like this where it's not obvious where a black dress ends and the black paper begins, it's massively time consuming and headache inducing. But that's how you make sure it's done right I guess. There is an advantage to of the kind of work I do, my final product is usually an image or a few images, not 300 like an event photographer would have to churn out. So I take my time until it looks perfect (or at least perfect to me).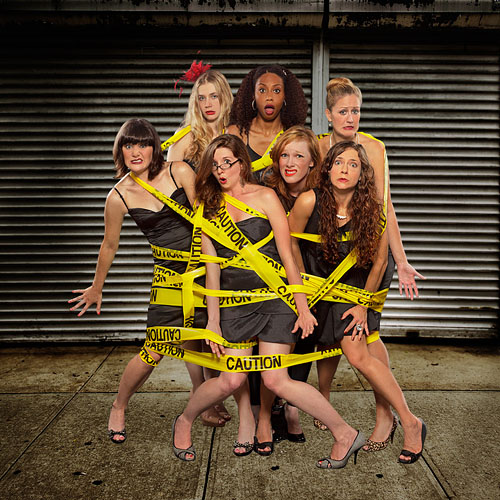 With them all masked out like this, you can see that while they're in the right position and the right size, they feel like they're floating in the scene, but you still need more layers. That's because there is nothing connecting them to the background, depth is needed, and shadows are the answer.  The first and in my opinion the most important shadows are the smaller sharper ones right where their shoes meet the sidewalk. Adding these alone adds a layer of realism.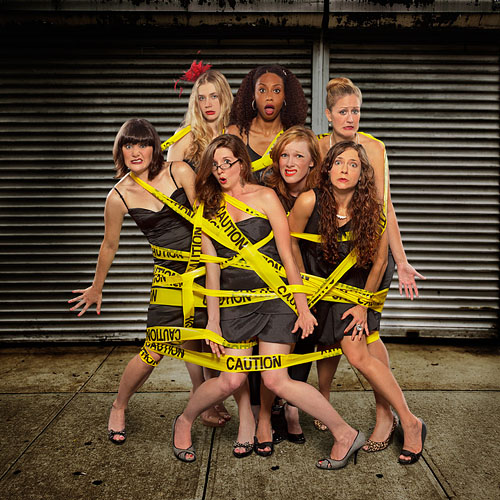 Next of course, are the shadows the girls are casting on the background. The main key light up front is going to darken the area right behind the girls.  I usually start with a copy of the layer with the girls, move it behind and then fill them with black.  Blur and distort it to taste. Then maybe go in with a very soft and light brush to add a little extra shadow where needed.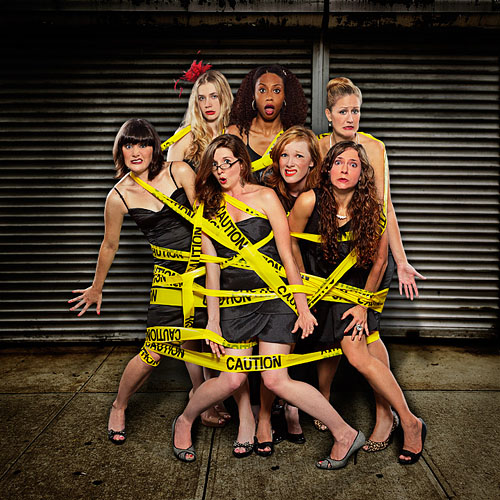 I got to this point and started to think that maybe I was finished, or very close to it. Then I realized it needed more electricity. For example, where were the side lights coming from? I might as well make them volumetrically visible in the upper corners, and perhaps a lens flare or two to blend it all together. So after a couple hours of shooting and many hours of editing, here's the final result.